Technology
Internships
Work Experience
RBC Summer Tech Labs Program
Empowering bright minds and building skills of the future.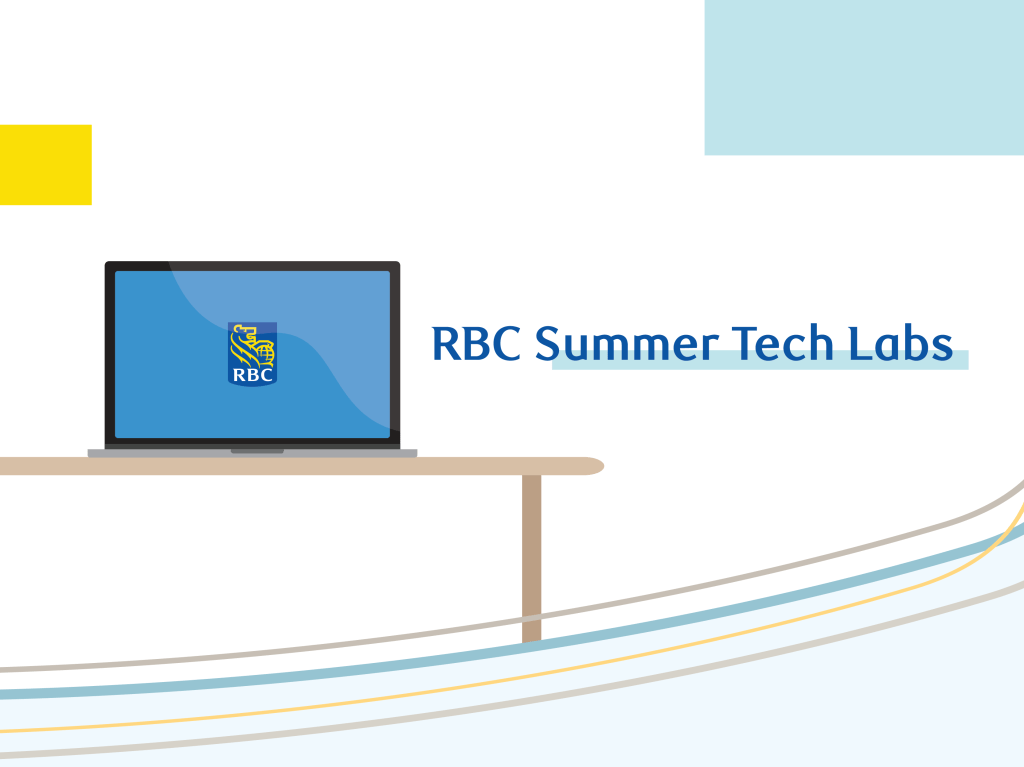 RBC Summer Tech Labs is an eight-week (July 4 – August 23, 2023) paid internship for students in grades 11 and 12. Throughout the summer, students will collaborate in small teams to grow their technical and professional skills, while solving three real world challenges faced by RBC. The students will gain valuable knowledge through workshops, mentoring, and will have hands-on experience deploying code into the RBC environment.

Applications will open March 2024.
Opportunity
As an Innovation Developer, you will innovate, ideate and build in a flexible, start-up like environment. This position requires a true passion for learning, experimentation and thinking outside the box.
Throughout the summer you will collaborate with a team of 4, responsible for building and presenting a working prototype that addresses a real business problem. You will have the chance to explore new technology, utilize design thinking methodologies to solve a complex challenge, and bring your solution to life!
What will you do?
Design, develop, and test a prototype for a business unit at RBC

Utilize new technologies (e.x. Javascript, Github, REACT.js, etc.) to build the proof of concept and prototype

Collaborate with business users and senior leaders to gather requirements and brainstorm solutions

Learn how to present solutions and pitch ideas

Be a part of a supportive team that doesn't take themselves too seriously…seriously
What do you need to succeed?
If you're bright minded with fresh ideas, enjoy participating in hackathons and are passionate about the latest tech and innovation, we want you!
You are/have:
Currently enrolled at an Ontario based high school, and have a passion for Computer Science, Engineering, or Entrepreneurship

Working knowledge of one or more programming languages

Applied experience with technology concepts or coding (attended hackathons, clubs, tech focused programs, etc.)

Excellent interpersonal and communication skills (verbal and written)

Team player with a strong desire to collaborate to generate solutions

Creative and analytical thinker who is self-driven and capable of working in a fast paced environment

MS Office skills – Word, Outlook, Excel and PowerPoint
What's in it for you?
Build skills for the future through agile training, technical mentorship, and professional development sessions.
Create a strong community by connecting students with like-minded peers, experienced RBC employees, and executives in technology
Do meaningful work by addressing a real problem and coming up with technical solutions to solve them. Making a direct impact to the bank or community.
You will also experience an organization that thrives on…
Challenging ourselves to be the best

Embedding progressive thinking among our groups for continuous growth

Delivering trusted advice to help our clients thrive and our communities prosper

Achieving mutual success – if RBC wins, we all win.
Testimonials
"I learned how to foster a strong development team, & how fascinating the different aspects of developing one application is."
Kevin Cui
"I came into this program thinking that I would be coding 24/7, but actually learned a lot more about design thinking and agile processes that allow me to work more efficiently."
Hanan Au
"I learned to act and communicate in a professional setting which allowed me to build connections and network within RBC."
Dora Su
"One of my biggest takeaways was learning how to effectively collaborate with a team on a large-scale project. Using agile, conducting retrospectives, and harnessing GitHub has been instrumental to our success this summer."
Jason Xiong
FAQ
The program will run from July 4th to August 23rd. Business hours are from 9:00am to 5:00pm, Monday to Friday. Candidates are expected to be available to work for the entire 8-week period.
In 2022, we ran our first ever hybrid cohort. Students worked both in-person in the downtown core of Toronto, as well as remotely in their homes around the GTA. In 2023, we will be running the program in a way that best benefits the Summer Tech Labs students. Specifics on program location and format will be announced closer to the program start.
Yes, Summer Tech Labs is a paid internship experience. The exact hourly rate will be outlined in your offer letter.
No, you will be responsible for your own commuting costs.
Yes, RBC will provide all the hardware and software required to complete your job. You will receive your laptop on your first day and you are expected to return it on your last day of work.
Each summer, the Innovation Developers work on a different project determined by the organizations' needs at that time. Last summer, students worked on three internal platforms and developed updates to the front and back end. The project(s) for the upcoming year are still being finalized but they are always centered on solving real organizational problems.
The first week of the program is designed to onboard students to RBC, get technology set up, and give brief training and coding refreshers. For the next weeks, students will work in collaborative teams of 4 to code weekly deliverables on the assigned task using agile methodology. At the end of each week, students will present their work to their peers and other stakeholders and obtain feedback and group input. The group will be assigned new tasks weekly.
Students are given the opportunity to practice the latest coding languages and frameworks (i.e. Javascript, REACT.js, etc.) as well as technical tools such as GitHub and Jira. Although the technical skills required depend on the project assigned, you can prepare for the internship by spending some time brushing up on your coding skills in the language(s) you are comfortable working with.
Since the nature of the program is highly collaborative, we are looking for students who are comfortable working in a group setting. Some public speaking skills are also an asset, but not required – you will have the opportunity to practice public speaking skills from the weekly presentations in front of your peers.
Being a part of the Summer Tech Labs program gives you access to a multitude of resources. The program team will organize mentorship opportunities, tech talks, networking, and office hours with Subject Matter Experts (SME'S) from around the organization. Outside of the program, being a co-op student at RBC gives you access to a huge network of experienced RBCers and informational sessions that you can attend on your own merit. RBC is a highly collaborative workplace and we encourage you to attend as many internal and external events as you can during your internship to continue to expand your learning and build your capabilities.
RBC is a great place to work as a young professional because of the wide range of opportunities at the organization. You can meet people from a variety of backgrounds who are willing to share their advice and experience. RBC has opportunities in almost every field so there is lots of growth potential at the organization. We also prioritize our people first and value a work-life balance for all employees. You will find your time at RBC to be a great learning experience and a strong place to start your career.
Unique career journeys: Whether you are a student or experienced tech professional, we grow together by providing learning and development to help you unlock your best.
Access to leading technologies: We set our teams up for success with what they need to get the job of re-imagining our business done right.
Meaningful work: We've built a team to help us solve our toughest problems, and our students and employees are at the heart of that evolution.
Flexible work life: A workplace where work/life balance and collaborative, dynamic work styles and teams come to life.
---
Interested in partnering with us?
We're always looking to grow our high school programs and initiatives. Send us an email at freetechprograms@rbc.com and let us know how you would like to get involved! You can also sign-up to be part of our mailing list to keep up to date on events and application openings.
Other RBC High School Programs
Hack the Hack
(Coming soon)
Hack the Hack is a five-week after school program for womxn* students in grades 8 through 10. Throughout the course of the program, students will learn technical skills they can use to succeed in future hackathons. Students will be taught topics such as, design thinking, pitching, developing, and coding. After the program, they will be prepared to participate in our hackathon challenge, Next Great Innovator.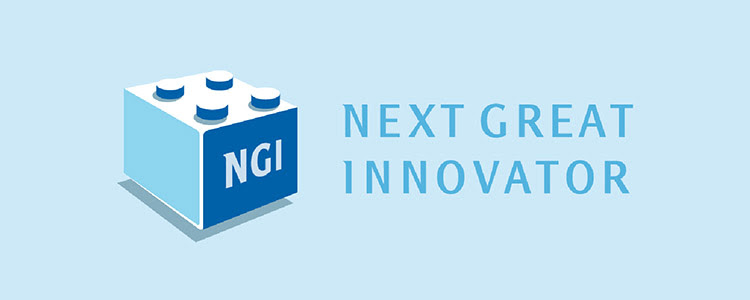 The Next Great Innovator
(Coming soon)
The Next Great Innovator is a day-long hackathon geared towards womxn in grades 8 through 12. This challenge is designed to encourage young womxn to explore technology and further develop their skills for future hackathons. Many students participate in NGI after completing the Hack-the-Hack program, putting their knowledge to the test! For many womxn, this is their first hackathon so we provide a program where they can learn, engage, and grow their technical skills.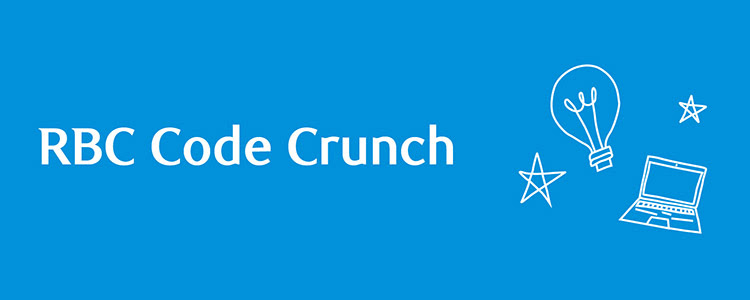 Code Crunch
(March 2023)
Code Crunch has been specially designed for students in grades 9-11 to explore their passion for tech and enhance their coding skills. Whether you are new to tech or a bit more experienced, this is a safe space for you to acquire new digital skills and expand your knowledge while forming valuable connections with other students. Aside from coding, students will also gain experience through professional development and speaking with RBC mentors.
RBC recognizes that the word "woman" may be used as an identifier for some but not all. We understand the imperfection of language, and we use womxn to welcome cis and transgender women, non-binary, agender, and intersex persons.
Share This Program
Related Resources