Career Support
Job Preparation
Advice & Tips
6 Tips to Ace Your First Job Interview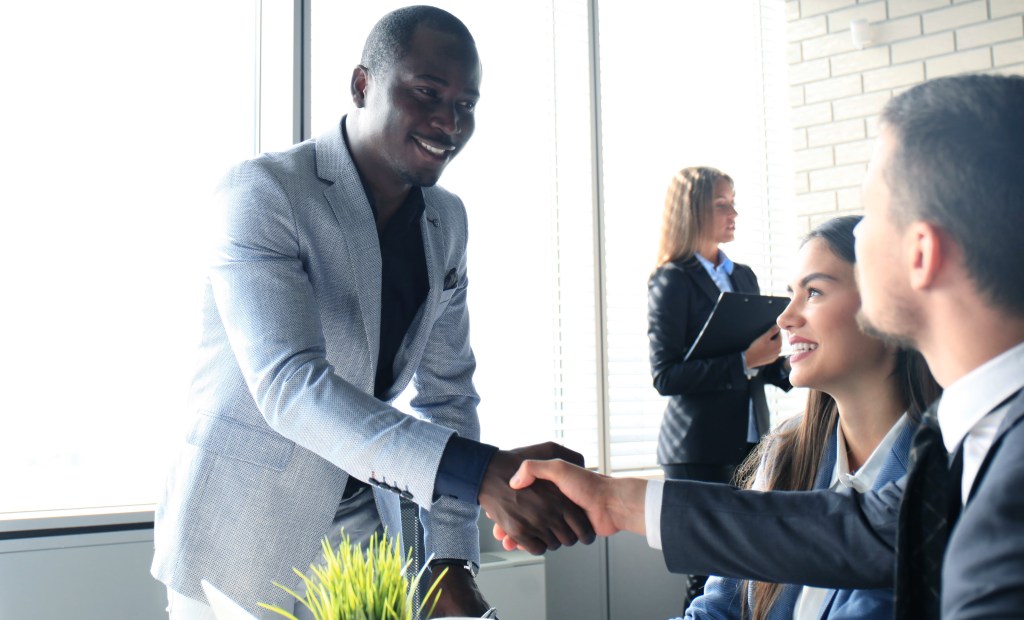 You never get a second chance to make a first impression during a job interview. Some of the easiest ways to tank your first meeting with a prospective employer include texting, fudging about something on your resume, dressing inappropriately and having a cocky attitude, according to a 2017 CareerBuilder survey.
If you're worried about striking the wrong note, a little preparation beforehand can ease your anxiety. Here are six ways to ready yourself before the interview.
1. Get to know the company
Before you head into an interview, it's essential that you've done your homework and know a thing or two about the company. For example:
What's the company's mission?

Who are the key players in the organization? Who's going to be interviewing you?

What's the company's reputation? Has there been recent news about the company?

What kind of skills, experience or knowledge does the company value most in its employees?

What products or services does the company sell?

What's the culture like?
Some of this information can be found on the company's "About Us" section of their website but it also helps to broaden your research.
Try a Google news search to see what the company's been up to lately. Check sites like Glassdoor to see what current and former employees have to say about the company. The more you know, the better prepared you'll be to answer questions and highlight what makes you a desirable candidate.
2. Get to know the job
Beyond getting the scoop on the company, you also need to drill down on what the job itself is like. Some things to research here include:
What duties, tasks and responsibilities the role involves.

What a typical day looks like.

Who someone in your role would report to.

What skills or experience you're expected to have.

What kind of salary and benefits you can expect
Again, sites like Glassdoor can give you insight into these questions. You can try Salary.com or Payscale for details on wage rates for different positions. Job search websites like Indeed are also useful for checking salary ranges.
3. Be prepared to ask and answer questions
If getting through the Q&A makes your palms sweat, you're not alone. In a 2017 WayUp survey, 35 percent of recent grads said the question they feared most was, "Why should we hire you?"
Other questions you should be ready for include:
Why do you want to work here?

What are your strengths and weaknesses?

Where do you see yourself in five years?

What can you tell you me about yourself?

What's been your biggest challenge (or failure)?

What accomplishment are you're most proud of?
Be ready with questions of your own. The rapport between yourself and the interviewer may direct your questions but generally, it's okay to ask things like:
What's a typical day like?

Why is the company hoping to hire someone right now?

What kind of projects would someone in this role be working on?

What are some of the company's biggest goals over the short- and long-term?

What's the culture like? How do you encourage and promote collaboration?

What do you like best about working here?
Stick with asking three to five questions at most. That's enough to show your interest in the company without making the interviewer feel bombarded.
4. Look the part
A first job interview isn't the time to experiment with a new look. Try these tips to look your best:
Choose clothes appropriate to the role and company. Always err on the side of caution and dress up, not down.

Avoid loud colors or clashing patterns. Your clothes shouldn't be a distraction.

Choose clothes that are comfortable and fit properly.

Check for stains or wrinkles.

Pay attention to personal grooming. Get a haircut if needed, brush your teeth and trim your nails.

Keep accessories (including jewelry, belts, watches and bags) simple and to a minimum.
5. Practice, practice, practice
Practice makes perfect before of your first job interview. While it may help to rehearse answers to common interview questions, you can't go wrong by having a friend or family member help you with a dry run.
Go through every step of the interview, from greeting to closing.

Practice answering quickly and concisely.

Ask for constructive criticism on what you could improve.
If you can't get anyone to help, or you're feeling shy about asking for it, record yourself on a webcam or look in a mirror while you speak. That can help you gauge your facial expressions and tone to you get an idea of how an interviewer may see you.
6. Be polite
Last but not least, remember to mind your manners at all times during the interview.
Be on time or early, if possible.

Turn your cellphone off.

Greet the interviewer with a firm handshake and a smile.

Actively listen when the interviewer speaks.

Make eye contact and don't fidget.

Let the interviewer finish speaking before jumping in.

Thank the interviewer for their time and the opportunity to meet.
There's a lot to digest here, but putting these tips into action could help you get your foot in the door. Remember, your first job interview is a rite of passage and the more interviews you attend, the more polished and comfortable you can become.
Share This Article
Related Resources