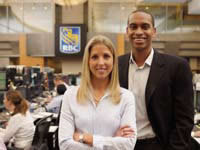 A talented and highly motivated workforce is a key element in our blueprint for building a sustainable and successful future. Consistently ranked as one of the top employers in Canada, RBC strives to strengthen our reputation as a quality employer in all countries in which we do business.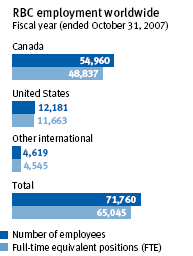 For more information, visit
rbc.com/responsibility/workplace

Building mutually rewarding relationships with employees
RBC provides a flexible and competitive Total Rewards program based on an understanding of what employees value and need. This comprehensive approach rewards people for their skills and contribution and includes compensation, benefits and a positive work environment, along with career and learning opportunities.

As our business and workforce continue to grow and become more diverse, offering choice and flexibility through Total Rewards is even more critical to our success.

Continuous employee growth and development helps ensure we meet current and future client needs. Employees have access to the training resources and opportunities they need to learn and grow as professionals. This includes developing employees to be leaders through the use of key job-related experiences.

The employee savings and share ownership plans that are part of our rewards program help align employee, investor and company objectives. The vast majority of employees are RBC shareholders through these programs.

Well-informed employees are more likely to align their actions with company goals. Our senior management team regularly meets with employees to discuss the company's goals, strategies and progress. Employees have access to company information via intranet sites, electronic news magazines, e-mail bulletins and other communication channels, and are encouraged to provide feedback and comments in a variety of ways.

RBC has a long history of listening and responding to employee feedback, with employee opinion surveys dating back to 1981. By understanding employees' views, RBC can take action to address their needs and the company's priorities, which results in high levels of employee engagement and a strong commitment to clients.

In 2007, we again gathered employee input on our progress in key areas including talent management, performance enablement, employee engagement and workplace culture.
Diversity for growth and innovation
Diversity is one of our core values. We believe that leveraging diversity for growth and innovation is both a sound business imperative and the right thing to do for our employees, clients and the communities we serve.

RBC is a leader in promoting diversity. We regularly sponsor research studies, awards and public discourse that promote understanding and draw attention to diversity issues. Our annual Diversity Progress Report is available at rbc.com/uniquecareers/diversity/
progress_reports.html.