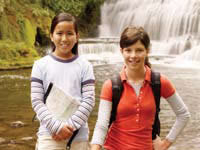 RBC is committed to environmental sustainability. We believe that this commitment has enhanced our capacity to conduct business and the RBC Environmental Blueprint™ will allow us to continue delivering short- and long-term benefits for our clients, employees and the communities in which we live and conduct business.

Policy


The RBC Environmental Policy was first developed in 1991 and, since then, periodically updated to reflect the changing environmental priorities of our company and our stakeholders. In 2007, our policy was substantially revised. It now more comprehensively addresses environmental matters pertaining to operations, business activities, products and services, employees, compliance, reporting and transparency and partnership.

Priorities
To effectively carry out our environmental sustainability mandate, we prioritized our key environmental issues and activities in 2007 as part of the RBC Environmental Blueprint™. In selecting our priorities, we considered our potential exposure to, and influence over, the issue or activity, as well as its importance to our complete array of stakeholders.

Climate change, biodiversity (including issues related to forests and indigenous peoples) and water were selected as our priority environmental issues.



Climate change


Climate change presents environmental, social and financial challenges to the global economy, human health and to our own businesses and operations. The two causes of climate change are natural systems and human activity, most notably greenhouse gas emissions from the combustion of fossil fuels, and large-scale removal of forests and vegetation. We believe that it is of vital importance that we all contribute to efforts to reduce greenhouse gas emissions and effectively adapt to the unavoidable impacts of climate change.



Biodiversity


Biodiversity, or "biological diversity," refers to the variety of different species, the genetic variability of each species and the variety of different ecosystems that they form. Environmental degradation resulting from human activity and the forces of climate change is disrupting the natural biodiversity of habitats and ecosystems. Critical natural systems and the abundant biodiversity they support must be preserved in order to maintain healthy communities, cultural values and shareholder value.

Forests help moderate the climate, provide diverse habitats for species and purify water. We believe that we must play a part in protecting the integrity of the boreal forests of Canada and rainforests around the world by supporting sustainable forestry practices.

RBC recognizes that the identity, cultural beliefs and economies of some indigenous peoples are intrinsically tied to their region's history, biodiversity and natural landscapes. We believe that industries operating in these natural areas must consider the effects of their operations on affected communities, and particularly communities of indigenous peoples.



Water


Water is the most important natural resource on earth, and without it, all life would cease. Access to clean fresh water, the preservation and management of watersheds and water conservation are becoming increasingly urgent environmental concerns, both globally and in many of the regions in which we operate. Climate change, pollution and inefficient water usage are factors contributing to a growing water crisis. In 2007, we launched the RBC Blue Water Project™, a 10-year, $50 million charitable grant program to help find global solutions to this crisis and we are exploring opportunities to contribute solutions through financial products and services as well.
We intend to direct our environmental efforts toward three priority activities that are important to RBC and our stakeholders:
•
Reducing the intensity of our environmental footprint
•
Promoting environmentally responsible business activities
•
Offering environmental products and services.

Reducing the intensity of our environmental footprint


RBC is committed to continuing to reduce the intensity of our energy use, paper consumption, employee travel, water use and procurement activities on a per employee or per square metre basis. In 2007, we improved operating efficiencies through strategic management of our environmental footprint and realized positive financial and environmental impact. For example, retrofit lighting in our branch network and the provision of electronic statements for clients has reduced our consumption of energy, paper, operational costs and our indirect greenhouse gas emissions.



Responsible business activities


At RBC, we work with our clients and the companies we invest in to mitigate environmental risks and support environmentally responsible business models. Comprehensive environmental risk management policies and procedures facilitate the environmental review of transactions, and we regularly update these policies and procedures to address regulatory changes, emerging and evolving issues and international best practices. For example, our Policy on Social and Environmental Review in Project Finance, which enables us to meet our commitment to the Equator Principles, was amended in 2007 to reflect new requirements under the revised Principles.

In our lending activities, and as appropriate, environmental issues are assessed at the following levels: industry, borrower and transaction. Policies require that, where warranted, transactions are reviewed by internal or third-party environmental specialists to ensure that environmental risks are appropriately identified and addressed. Our internal team of environmental experts provides support and expertise to business and operational units throughout the organization.



Financial products and services


RBC seeks to offer an expanding array of products and services that provide environmental benefits, are clearly distinguishable from comparable non-environmentally focused products, and empower clients to reduce their environmental footprint at little or no additional cost.

For more information, see the Risk management section of the MD&A or visit rbc.com/responsibility and rbc.com/environment
| | |
| --- | --- |
| • | We view environmental markets – including renewable energy, clean technology, and emissions trading – as an emerging business area for RBC. We participate in and are watching these markets closely for future opportunities. For example, in collaboration with several U.S. and Canadian banks and the UN Environment Programme Finance Initiative, RBC commissioned a report on global best practices in environmental financial products and services. The report was published online in August 2007, and in September, RBC hosted a workshop for North American banks to learn more about opportunities in green financial products and services. |