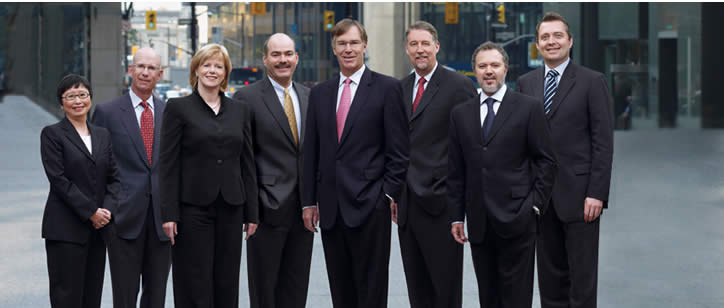 At RBC, we spend significant time and energy advancing our vision of "Always earning the right to be our clients' first choice." Over several years, we have made dramatic changes to all aspects of our operations to make it easier for clients to do business with us. We have worked together to make our processes simpler and geared toward helping our clients. We set stringent financial goals and embedded a high-performance culture to drive top quartile performance for our shareholders. Our efforts have been met with tremendous success on all fronts, but like many great organizations, we know that it is not enough. Ours is a fiercely competitive business and we recognize that as a leader, the contest for clients, capital and talent never weakens and we must always pursue higher standards of growth and achievement. Indeed, we are always finding better ways to exceed the expectations of our shareholders, our clients and ourselves.
In 2007, our shareholders benefited from solid financial results that reflected our leadership position in core businesses in Canada and our expansion and growth in the U.S. and internationally. Across RBC, we have succeeded in numerous growth initiatives, and have taken advantage of opportunities in the Canadian and international markets. During 2007, we continued to return capital to our shareholders through dividend increases and share buybacks, delivering a total shareholder return of 16 per cent.
Our management depth and operational discipline have helped us weather the turbulent market conditions that surfaced in the middle of 2007. As issues in the U.S. subprime market spilled into other sectors, including high-quality debt markets, they prompted increased volatility, wider credit spreads and reduced liquidity in the capital markets.
We have not been immune to these general market conditions since we are active in the debt and equity markets, largely through our capital markets businesses, and our U.S. banking operations have some exposure to the U.S. real estate market.
Overall, I am pleased with how we have managed our businesses throughout 2007. The diversity of our businesses across multiple products, markets and geographies is a significant competitive advantage and it enabled RBC to deliver solid results in the face of this market disruption. Throughout this period, our strong risk management practices and our solid capital position not only allowed us to maintain our high credit ratings, but served to assure investors and bolster their confidence in us. Underpinned by the continued strength of our balance sheet, I am proud that we have again been recognized as the safest Canadian bank and the third-safest bank in North America (Global Finance magazine).
I have confidence in the capabilities of our organization, our management team and our people to continue to respond and react in the interests of our shareholders and clients. As a result of our efforts and investments made during the past several years, we are looking to the future from a position of strength. Our financial performance is strong, we are continuing to make investments necessary for future growth, and we are trusted and respected as a financial services provider, an employer and a corporate citizen.
I believe that our ability today to serve the needs of our clients in every market is as strong as ever and I am committed to ensuring that our people and our businesses have the resources to maintain this standard. Our foundation for future growth is made stronger by a backbone of centralized technology, operations and corporate functions teams that allows us to gain economies of scale and foster innovation. Our brand, which was again recognized as the most valuable in Canada (Brand Finance, BrandZ), is an asset that we know will be vital to our growth plans. We will be building our brand further through targeted advertising and sponsorships in the U.S. and U.K., and through several global initiatives, including the RBC Environmental Blueprint™ discussed on page 30 of this report. In addition, we are taking steps to develop a robust global talent pool as we are mindful that more of our growth will increasingly come from international markets.

2007 Strategic goals
In 2007, our people remained focused on our strategic goals:
To be the undisputed leader in financial services in Canada
To build on our strengths in banking, wealth management and capital markets in the United States
To be a premier provider of selected global financial services.
In the pages of this report, you will read the highlights of our progress toward each of these goals through a variety of initiatives, each with the common objective of serving our clients to the best of our abilities.
In Canada, we work hard to be a leader in a fiercely competitive marketplace. Spurred by our Client First philosophy and favourable economic conditions for much of the first half of 2007, all our retail Canadian businesses benefited from significant volume growth. Our Canadian retail businesses – banking, insurance and wealth management – demonstrated leadership throughout the year, setting an excellent foundation for future growth. In Canadian Banking, we grew lending volumes by 11 per cent and deposit balances by 6 per cent. Canadian Wealth Management continued its strong performance, improving revenue by 13 per cent. And as the Canadian industry leader in net sales of long-term mutual funds for 16 consecutive calendar quarters, Global Asset Management revenues grew 17 per cent from last year.
We have the broadest national retail presence in Canada – with more branches and automated teller machines (ATMs) than any other competitor across the country – and we have worked hard to attain top three market shares in all products and regions. Despite our leadership position and reflective of our competitive environment, we continue to make investments that will pay dividends in the years ahead. I believe it is important that we not rest on past success, but use our resources to further improve service by renewing our branch network and re-energizing our people. Our clients are not the only ones who see the difference: In 2007, Synovate recognized us as the best among our largest domestic competitors for the service we provide clients in our branches and the value we give them.
Our diverse and broad-based capital markets businesses continued to lead in most elements of the Canadian market, and we were again named Dealmaker of the Year by the Financial Post for providing services to Canada's leading corporate, government and institutional clients. We continued to differentiate our capital markets business from our Canadian peers by leveraging our expertise globally in fixed income distribution, energy, mining and metals, the Canadian dollar, and cross-border mergers and acquisitions.
Our second and third strategic goals describe our ambitions outside our home market. Over time we expect to continue to grow our international business to account for approximately half of our overall earnings and we continue to invest to help make this possible. Our commitment to growing our international business lines is underscored by the fact that we have completed or announced a total of nine international acquisitions worth more than US$4.5 billion since October 2006.
Our progress in the U.S. continues. One source of our strength in the U.S. is our ability to differentiate ourselves in the banking and wealth management markets by providing our clients with the benefit of RBC's global resources, but also stressing the autonomy and decision-making power of local management.
While our U.S. banking business must manage the effects of the recent downturn in the U.S. real estate market, we are committed to our long-term strategy of building a strong retail banking operation in the U.S. Southeast focused on serving businesses, business owners and professionals. The substantial investments that we have made in our operational infrastructure over the past couple of years will enable further expansion in the region and result in scale and operating efficiencies over time. In 2007, we made great strides toward building a targeted banking client base of businesses, business owners and professionals. Loans and deposits were higher in our U.S. banking operations in 2007, and I am encouraged by the work done to build the foundation for future growth especially in the face of today's demanding conditions.
We have 350 branches in high-growth markets in the U.S. Southeast, with 103 branches to be added following the expected close of our acquisition of Alabama National BanCorporation (ANB) that was announced in September. In total, we have used acquisitions and de novo branch openings to expand our current number of branches in the U.S. by 24 per cent over 2006 with more than 900 additional employees dedicated to serving our U.S. banking clients. We are continuing to pursue investments that will grow our retail banking business in high-growth markets in the U.S. Southeast.
In the U.S. wealth management market, we are the seventh largest full service brokerage, as measured by number of financial consultants (FCs). We continued to build scale by enabling our clients to grow their assets by attracting high-producing FCs, and acquiring J.B. Hanauer & Co. Finally, in our U.S. capital markets businesses, we have leveraged our bulge bracket position in Canada to provide expertise and product breadth to U.S. mid-market companies. We have used acquisitions to expand our capabilities and expertise, remaining a leader in municipal finance, and gaining strength in both U.S. mid-market issues and the K–12 education finance sector.
The most notable development outside Canada in 2007 was the announcement of our agreement to acquire RBTT Financial Group (RBTT), which will create one of the most expansive banking networks in the Caribbean with a presence in 18 countries and territories across the region. This will be a truly transformational acquisition for us in the region and will extend our reach into many important new markets, notably Trinidad and Tobago, Jamaica, and the Dutch Caribbean. Unquestionably, pending a successful close, acquiring RBTT significantly advances us towards our objective to grow outside Canada.
Our core strength in international trust services is helping to drive our success as a top 20 global private bank, and we continued to expand our presence by opening several new offices during the year. Through our 50 per cent ownership in RBC Dexia Investor Services (RBC Dexia IS), we now operate in 15 countries and have been ranked as the top global custodian by Global Investor magazine and R&M Consultants for four and three consecutive years, respectively. Finally, in Capital Markets, we are a leading player in select niche businesses. For example, we are a leader in alternative currencies and are a top-tier player in infrastructure finance. In addition, we are leveraging our domestic expertise to expand our global mining and energy practices.
2007 Financial results
Long-term shareholders will not be surprised that we must leverage our ongoing financial success to cultivate new long-term growth opportunities for our businesses. For several years, we have made it a management priority to ensure current success was reinvested to fund future growth. This approach allowed us to deliver relatively solid shareholder returns in 2007 while returning capital through increased dividends and share buybacks. We raised dividends twice in 2007 for a total increase of 26 per cent, and we repurchased 11.8 million common shares. Our capital position is strong with a Tier 1 capital ratio of 9.4 per cent, comfortably above our target of greater than 8 per cent.
Our diluted EPS growth of 17 per cent, ROE of 24.6 per cent and dividend payout ratio of 43 per cent compared favourably to our annual objectives, largely reflecting strong performance across most of our businesses. Our defined operating leverage of 2.6 per cent (as shown on page 15) was below our annual objective of greater than 3 per cent reflecting higher costs in support of our growing business and investments in future growth initiatives, including acquisitions.
Our total shareholder return was 16 per cent for the year ended October 31, and our three-, five- and 10-year total shareholder returns were 25 per cent, 19 per cent and 15 per cent, respectively. Relative to our peer group, we delivered top quartile shareholder returns over the past three and 10 years, and second quartile returns over the past five years.
How we will measure ourselves in 2008
We look ahead with some caution, understanding that current market volatility and uncertainty will impact financial performance. Nevertheless, we remain committed to generating top quartile total shareholder return in relation to our Canadian and U.S. peer group over the medium term.
On page 15, we show our 2008 financial objectives, which are based on our three strategic goals and economic outlook and are intended to generate strong returns for our shareholders.
Objectives for our defined operating leverage, ROE, Tier 1 capital ratio and dividend payout ratio remain unchanged, reflecting our continued commitment to strong revenue growth, cost containment, as well as sound and effective management of capital resources. Our 2008 objective for diluted EPS growth is 7 to 10 per cent. Our objectives factor in the effect of our pending acquisitions of ANB and RBTT – which will be funded partly through issuance of our common shares – and related integration costs. The ANB acquisition is expected to close in early 2008 and the RBTT acquisition is expected to close in the middle of the year. We expect our provision for credit loss ratio to trend upward toward historical averages, in line with our view of the overall credit environment.
While Canada's economy expanded in the first half of 2007, our outlook is based on slower economic growth going forward as a result of weakening credit markets and the sharp rise in the Canadian dollar. We expect the U.S. economy to grow in 2008 at the same pace as 2007 as a result of rising business investment, strong export growth boosted by the depreciation of the U.S. dollar and continued consumer spending. We anticipate that financial market volatility will persist into early 2008 as lenders and investors remain cautious. In other global economies, we expect growth to ease moderately in 2008 with China and emerging Asian countries leading the way.
Our success means finding better ways
While the past year has proved relatively successful by many, if not all, measures, RBC's advantage is our unwillingness to be satisfied with the status quo. Especially in difficult environments, strong players like RBC have the opportunity to build on their position of strength to gain clients, increase market share and grow quality assets by truly differentiating themselves. Our long-term investors will see clearly that we have changed significantly over the past several years in order to better serve our clients.
Our past record of strong performance is the result of our constantly asking how we can improve: I fully expect that our future performance will reflect our reaction to the same question. All our people at RBC are engaged in the response to this challenge, and I am proud that they are always finding better ways to gain our clients' business and their trust. Their continued work leads us to achieve our aggressive goals and, in turn, should provide our shareholders with confidence and superior returns.
I sincerely thank all our clients for their continued business and our more than 70,000 employees for their relentless focus on delivering value for our shareholders and clients around the world.


Gordon M. Nixon
President and Chief Executive Officer