Code of Conduct

All RBC employees worldwide are governed by our Code of Conduct, which was first established more than 20 years ago. The Code is reviewed regularly and was updated in 2007, with clarification of our process for approving and disclosing waivers, increased confidentiality protection provisions, additional guidelines for conflicts of interest, and updated standards for maintaining respectful workplaces. All employees are required to take a web-based learning program so that they know and understand the Code's principles and compliance elements. The program includes an online course and a test, which all employees must complete within 30 days of joining RBC and at least once every two years thereafter. The company's most senior officers and select others must complete the program annually.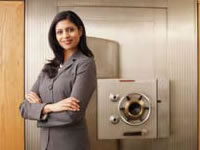 A truly sustainable company must have ethical business practices. At RBC, one of our key values is to operate with trust through integrity in everything we do. Our blueprint for ethical behaviour includes a strong foundation of principles, codes and formal policies designed to protect consumers, combat corruption, ensure business continuity, and facilitate reporting of breaches or concerns.

Policies
RBC has enterprise-wide compliance policies and processes to support the assessment and management of risks, including policies to address issues such as economic sanctions, lending to political parties, money laundering, terrorism financing and conflicts of interest. Policies and controls are reviewed regularly to ensure continued effectiveness and alignment with relevant laws and regulations.
Anti-money laundering policy
RBC is strongly committed to preventing the use of our financial services for money laundering or terrorist financing purposes. In 2007, every RBC employee worldwide, regardless of their role in the organization, took an anti-money laundering/anti-terrorism financing course and exam. The course was tailored for each business, function and geography with material specific to the laws of 38 countries and jurisdictions in which we operate. Our Global Anti-Money Laundering Compliance Group develops and maintains policies, guidelines, training and risk assessment tools and models and other controls to help our employees protect RBC and our clients, and to ensure we are managing ever-evolving money laundering and terrorism financing risks. Our controls in this area incorporate Know Your Client rules established by various regulators to ensure we properly identify our clients and protect against the illegal use of our products and services.
Crisis management
RBC utilizes a best-in-class Business Continuity Management program to ensure that our businesses or units are adequately prepared to deal with any disruption of service to its clients. Risk assessments of all areas are conducted annually and further supported with contingency plans and periodic testing.
The RBC Enterprise Crisis Management team, consisting of senior executives from across the organization, is responsible for ensuring continued service to our clients. It is supported by a global network of regional, business-line and local incident management teams. These teams are on call around the clock to address any situation that may pose material risk to staff, corporate reputation or our ability to deliver service to clients. Regular crisis simulations are conducted to test the readiness and timely response to all emergency situations.
The RBC Business Emergency Information Line is our link to employees to provide current updates in the event of a crisis or external situation affecting their ability to access RBC offices or serve our clients.

For more information,
visit rbc.com/responsibility/governance


Reporting suspected irregularities
RBC has long-established processes that enable employees around the world to report suspected breaches of our Code of Conduct, other irregularities and dishonesty directly to our Ombudsman. Employees can report anonymously, confidentially and without fear of retaliation.

Specific to financial reporting practices, the RBC Reporting Hotline was established so employees and third parties around the world can anonymously, confidentially and without fear of retaliation, report suspected irregularities or wrongdoing relating to accounting, auditing or internal accounting controls directly to the RBC Ombudsman.