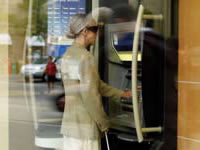 It's been said that corporate responsibility isn't so much about how a company spends its money, but how a company makes its money. At RBC, our blueprint for building sustainable, long-term relationships with our clients includes responsible practices in the marketplace, such as soliciting and acting on client feedback, providing responsibly developed financial products, maintaining vigilant consumer protection measures and ensuring access to financial services.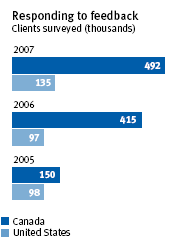 Responding to feedback


Every year, RBC businesses track client satisfaction and use client feedback to make improvements. For instance, in 2007, client research helped provide direction for these new initiatives in our Canadian retail banking operations:
•
Environmentally responsible product options
•
A simplified line-up of savings and chequing accounts with enhanced customer benefits
•
High-interest online savings account
•
Business banking packages for small businesses
•
Enhanced marketing and communication materials for greater relevance.

Product responsibility




Responsible development of products and services


RBC follows a defined, rigorous process before launching any new product or significantly changing an existing one. We evaluate products for a range of risks and ensure they align with client needs, our Code of Conduct, laws and regulations, and voluntary consumer protection codes that we have signed. Approval levels within RBC correspond to the level of risk identified for a particular product or service.



Low-carbon banking for consumers


One of our priorities is to provide products and services that help our clients mitigate their environmental impact. This includes online banking, and electronic statements and bill payment. In Canada, RBC introduced new financial options and incentives for our environmentally conscious clients in 2007, including incentives to switch off paper statements, have a home energy audit, buy a lower-emission car, and switch to green power. We encourage our clients to use electronic solutions that replace the carbon-intense activities involved in retail banking such as travel and paper.



Socially responsible investing (SRI)


Increasingly, investors are becoming interested in putting their money where their values are. In 2007, RBC became the first major Canadian bank to offer investors this option with the launch of the RBC Jantzi Funds, three funds that are screened for environmental, social and governance factors. Clients in Canada and the U.S. also have access to other SRI funds through our network of advisors.

Responsible lending
RBC provides credit and banking services to companies in many industries. Our policies cover areas of concern, including environmental issues. For instance, RBC will not support or finance transactions that are directly related to trade in or manufacturing of material for nuclear, chemical, and biological warfare or landmines.

RBC has a number of anti-corruption policies which require us to apply appropriate scrutiny and monitoring measures to high-risk clients whose business activities are known to be susceptible to criminal activity or have been designated as high-risk for money laundering.



Consumer protection




Privacy and information security


RBC is dedicated to safeguarding the privacy and confidentiality of personal, business, financial and other information. In fact, it is one of our highest priorities and remains a cornerstone of our commitment to our clients, employees and other stakeholders. We have had a formal Privacy Code since 1991, overseen by our Chief Privacy Officer, and we use vigorous security safeguards and internal controls to ensure the privacy and security of information entrusted to us. In 2007, we developed a broader, more holistic framework for managing privacy, information risk, security and records/content management. RBC ranked among the most trusted companies for privacy in Canada in the Ponemon Institute's 2007 survey.



Fraud prevention


RBC has stringent security policies and practices, backed up by around-the-clock resources to prevent, detect and investigate potential fraud. Online security is a priority, and our security guarantees help protect online banking and self-directed brokerage clients from unauthorized transactions. In 2007, we centralized our claims process for unauthorized transactions, resulting in quicker reimbursement to clients. We upgraded most of our retail and branch lobby ATMs with anti-skimming devices in 2007. These devices deter would-be criminals from placing fraudulent skimming devices over the ATM card slot. We have developed a number of fraud-education initiatives including up-to-date tips and alerts, brochures and client presentations.



Voluntary codes of conduct


The Canadian banking industry has developed a number of
voluntary commitments and codes to protect consumers, to
which RBC has committed. These are listed at
rbc.com/voluntary-codes-public-commitments.



Know Your Client rules


Know Your Client rules are key to investment and banking clients' protection. Our employees are required to make all necessary efforts to understand a client's profile, financial and personal objectives before making recommendations relevant to their needs. Our due diligence also covers compliance with applicable securities, consumer protection, anti-money laundering, anti-terrorism and economic sanctions legislation.



Client complaint process


Our formal process for handling client concerns is outlined on our website and in our Straight Talk brochures. If clients believe an issue to be unresolved following receipt of a response from the RBC representative dealing with their concern, they may appeal to the Office of the Ombudsman, which examines decisions made by RBC companies and reviews their compliance with proper business procedures. The Office ensures customers get a fair and impartial hearing and are treated with consideration and respect. We also respect the dignity and privacy of all parties involved in the proceedings. Certain disputes that remain unresolved after being reviewed by the Ombudsman may be directed to a number of agencies and regulators listed on our website and in our Straight Talk brochures.