2007 Highlights

•
Incurred taxes of $2.09 billion worldwide
•
Purchased goods and services totalling $4.4 billion from international, national, regional and local suppliers
of all sizes
•
Served more than half a million small business clients in Canada, the United States and the Caribbean
•
Promoted innovation, a key driver of the economy, through investments in early-stage technology companies and support for research-based initiatives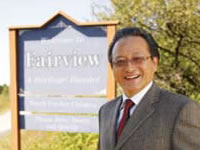 Companies both large and small can help shape the economies of the communities and countries in which they do business, simply through their day-to-day business decisions and actions. RBC aims to have a positive economic impact by providing attractive returns to shareholders, creating employment, supporting small business and economic development, fostering innovation and entrepreneurship and purchasing responsibly.

Economic development


RBC invests in sustainable economic development, and we are committed to contributing to the success of people and businesses in the communities where we operate. We support:
•
Economic growth in communities where we do business
•
Initiatives that help build well-being, wealth and capacity in Aboriginal communities
•
Resources to promote economic self-sufficiency
•
Financial literacy programs
•
Programs that address basic needs, such as food banks.
RBC also promotes economic growth through industry partnerships. For example, we are a member of the Canadian American Business Council, raising awareness of the value of the Canada-U.S. trade relationship and enhancing the overall competitiveness of North American economies.



Small business


Small business is an important engine driving economic growth. We are the market leader in Canada, serving almost one in four small business owners. We have over half a million small business clients in Canada, the U.S. and the Caribbean.

Financing is essential for many small businesses to start, operate or grow, and RBC offers a host of credit solutions tailored to meet the needs of diverse businesses at various stages. We also strive to provide the best possible products, advice and expertise to help this sector prosper.



Innovation


RBC takes a leadership role in supporting innovation and the commercialization of research, and we support projects and organizations that promote learning, innovation and entrepreneurship, such as:
•
The Medical and Related Sciences (MaRS) project, facilitating research and development, and its commercialization in Ontario
•
The Council for Entrepreneurial Development, promoting high-growth, high-impact entrepreneurial companies in North Carolina's Research Triangle region
•
Georgia Tech's Advanced Technology Development Center, a recognized science and technology incubator that helps entrepreneurs from the U.S. state of Georgia launch and build successful companies
•
The RBC Next Great Innovator Challenge™, which rewards college and university students from across Canada for innovative ideas related to financial services.

Since 1969, we have brought investment dollars as well as our knowledge and expertise to budding software and technology companies serving the financial services and other sectors. We currently have approximately $250 million dedicated to directly invest in emerging technology companies.
For more information, visit
rbc.com/responsibility/economic

Purchasing
Our procurement policies are inclusive and aim to promote sustainable business practices and economic development where possible and appropriate. To maintain the highest standards, we review our purchasing policies annually.

We promote fair purchasing practices and strive to support, whenever possible, the communities in which we operate. We are a founding member of the Canadian Aboriginal and Minority Supplier Council (CAMSC). RBC has been a member of CAMSC's U.S. affiliate, the National Minority Supplier Development Council, since 2002.