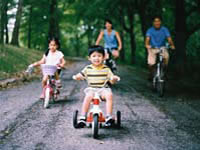 The RBC Community Blueprint™ contains a broad suite of programs and initiatives to help build stronger, more sustainable and prosperous communities around the world. Our employees and pensioners also make enormous contributions as volunteers, sharing their financial and business knowledge, time and enthusiasm with thousands of community groups worldwide.

Donations


Donations are a cornerstone of our community programs, with a tradition of philanthropy dating back to our roots. In fact, we have donations on record as far back as 1891. We are one of Canada's largest corporate donors, and contribute to communities across North America and around the world. We are committed to making a lasting social impact through inspired, responsible giving and by building strong partnerships with the charitable sector. Our priority areas for funding include:
•
Helping keep kids in school
•
Supporting community health care through children's mental health programs
•
Providing for emerging artist programs
•
Encouraging employee volunteerism
•
Helping find global solutions for the preservation and conservation of and access to fresh water.

Employee contributions


Our Employee Volunteer Grants Program was launched in 1999 to support and encourage community involvement. Employees and pensioners who volunteer a minimum of 40 hours a year to a registered charity are eligible for a $500 grant to the organization in their honour. Since 1999, RBC has made over 12,488 grants and donated more than $6.24 million to celebrate our employees' volunteer efforts.



Sponsorships


RBC is committed to supporting opportunities that are important to our clients and our communities. As part of this commitment, we sponsor numerous Canadian and international programs as well as community and cultural events in the neighbourhoods where we do business. By leveraging our strategic partnerships, we can truly differentiate RBC as a leading company committed to enabling the success of our clients and our communities.

Our sponsorships focus on two major platforms: amateur sports and visual arts. We support the development of amateur athletes through sponsorship of grassroots events in local communities and national sport associations. We are the longest standing supporter of Canada's Olympic Team, dating back to 1947, and a Premier National Partner of the 2010 Olympic and Paralympic Winter Games in Vancouver.

We also believe that healthy, vibrant communities are a direct result of investing in creative vision and artistic talent. We proudly support community events, art exhibitions and theatre performances. Celebrating its ninth year, the RBC Canadian Painting Competition recognizes the talent of emerging professional visual artists in Canada.