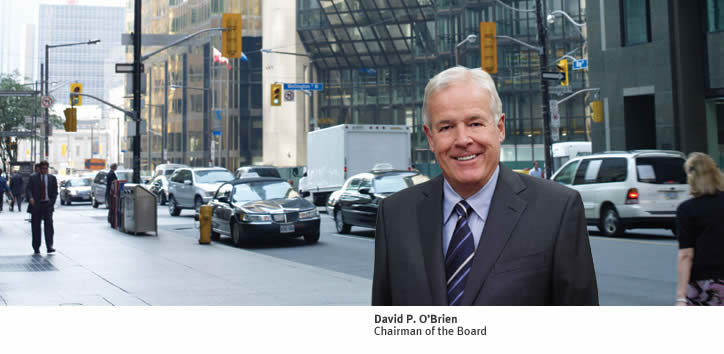 Investor confidence is a key element of RBC's success and your Board of Directors works hard to earn it. We act as the stewards of the organization, exercising independent judgment in supervising management and safeguarding the interests of shareholders. In fulfilling our role, we foster a corporate environment built on integrity and provide management with guidance in pursuit of our shared goal: maximizing long-term shareholder value.
RBC's enterprise is complex, spanning multiple businesses and geographies. Our board's diversity of thought and experience enhances our ability to oversee the strategic development of a successful global enterprise, understanding and assessing RBC's competitive environment, and anticipating the business possibilities and challenges of tomorrow.
The board reviews aspects of RBC's strategy at every meeting, taking into account the opportunities and risks of the businesses. We contribute a forward-looking perspective by participating actively with management in an annual session dedicated to strategic planning. In reviewing the implementation and success of approved strategic and operating plans, we regularly monitor RBC's performance against strategic goals, approving capital expenditures and major transactions that align with our plan.
We take seriously our responsibility to oversee policies and processes to identify the principal risks to RBC's businesses and the systems implemented to manage them. The board reviews strategies for identifying, prioritizing and managing risk, and for clearly defining roles and responsibilities. We seek to ensure that management's plans and activities are prudent and focused on generating shareholder value within an appropriate and comprehensive policy framework.
All our efforts are marked by an emphasis on trust and integrity. Our goal is to nurture the positive values that are already well entrenched in RBC's corporate culture and to reinforce the ethical principles on which its reputation and success are founded. In the board's view, these are critical to RBC's long-term success.
RBC's Board of Directors has long been proactive in adopting leading corporate governance practices. We remain firmly committed to continuous improvement of RBC's strong and effective governance standards. Again this year our approach received high marks, earning recognition from the Conference Board of Canada, IR Magazine and The Globe and Mail's corporate governance rankings.
My goal as non-executive Chairman is to provide independent leadership that will empower the board to add value. This involves keeping the board focused on its objectives, cultivating a team approach and encouraging effective participation to draw the greatest advantage from each director's individual strengths. One of my key responsibilities is to ensure that the board is independent-minded and evaluates matters through a shareholder's lens. Another ongoing focus is overseeing board assessment and peer review, as well as our board development program, which further enhances the board's understanding of the evolving complexity of financial services and the financial literacy of all directors. Over the past year, the board participated in sessions dealing with specialized and complex aspects of RBC's business operations, accounting and financial instruments standards, methodologies used in assessing and controlling risk and the implications of the Basel II Capital Accord.
Your Board of Directors is proud to actively participate in the achievements of Royal Bank of Canada. On behalf of the board I would like to thank management and all employees for their strong contribution to RBC's performance over the past year.


David P. O'Brien
Chairman of the Board