Meeting the Challenges of Global Banking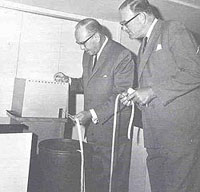 Conrad F. Harrington, president of Royal Trust Company, right, and C.B. Neapole, former Royal banker and president of the Montreal and Canadian Stock Exchanges, Montreal, scan the ticker tape following the official listing of Royal Trust common stock on August 23, 1967 - a milestone in the company's history.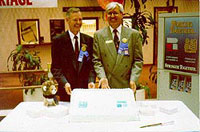 The integration of Royal Bank and Royal Trust was a textbook example of a smooth transition to businesses that were "Stronger Together." Across Canada, Royal Trust and Royal Bank branches put their own, personal stamp on the integration process that began the day the two companies joined on September 1, 1993. In this photo, managers for Royal Bank and Royal Trust in Victoria, British Columbia are ready to cut a celebratory cake for staff and clients.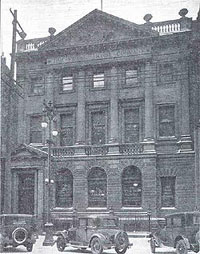 Winnipeg branch, which opened in 1903, was Royal Trust's first official branch outside of its original Montreal office. The building at 436 Main Street is shown here in April of 1929 as the branch was preparing to enlarge its quarters to accommodate a growing business and a staff that had expanded to 58.

back to top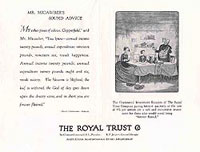 In 1930, Royal Trust ran a successful campaign of six advertisements, each using a quote and illustration from the novels of Charles Dickens. The series was printed on heavy paper, folded to the size of a greeting card and mailed to potential clients. The advertisements were so popular that Royal Trust received many requests for the "complete series". Here, Mr. Micawber gives some timely advice to young David Copperfield on the benefits of savings.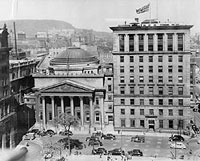 On Montreal's historic Place d'Armes, the Royal Trust Building was well situated in the centre of Canada's financial district. The nine-storey building, on the right of the photo, housed both Montreal branch and head office from 1913 to 1962.
back to top