Onto the Global Stage: The 1960s and the End of Parochialism
The prosperity of the 1950s served the bank well in the next decade. Under the leadership of Earle McLaughlin, from 1960-1979, Royal Bank adopted a new decentralized approach to change; new products and training procedures were developed. Traditional bank services broadened dramatically thus creating pressure for a new generation of bank employees. By the late 1960s, the staid world of banking was slowly crumbling and evidence of these changes began to reach the branches: increasing opportunities for women in management positions, Chargex/Visa*, personal chequing accounts, an array of personal loans, broadened mortgage plans and, in 1972, automated banking machines.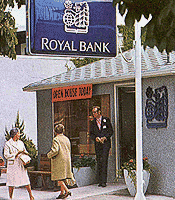 The friendly face of banking in the 70s. The manager of Cook & Oxford St., Victoria, British Columbia, branch greets customers at the door during open house in 1971.

Royal Bank's presence abroad was indicative of the gradual erosion of the national expansion of the Canadian banking system. Operating in over 50 countries by the early 1980s with operations from London to Beijing, the bank once again, as it had at the turn-of-the-century, shifted to accommodate the imperatives of national and international economic change.
Click image below to find out more
Read More


Did You Know?
Did you know that Royal Bank Letter began publication in 1919 as an economic newsletter? In 1944 it changed to a general interest publication, one which covers an extraordinary variety of subjects in the form of a single-topic essay.

back to top