War and Peace: Banking in a Keynesian World
The surge of war-induced prosperity restored vigour to national banking. Royal Bank actively financed wartime production of everything from aircraft to aluminium. As victory loomed, the bank joined the government's efforts to ensure that there would be no post-war return to depression. The 1944 revision of the Bank Act opened the way to a new range of consumer and farmer loans. As it had in the First World War, the bank handled the floatation of millions of dollars worth of Victory bonds. In a sense, the banks had become partners in growth with the federal government.
The "baby boom" years saw Royal Bank serve as a facilitator of headlong national growth. The "R-Oil" won a reputation as the first bank into the Alberta oil patch. After 1954, when the banks were permitted to carry new home mortgages, Royal Bank quickly led the industry as the home buyers' preferred lender. Under the direction of James Muir, the bank's hard-nosed president through 1949-1960, the bank built up its corporate accounts in Canadian industrial and resource development projects.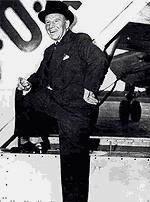 James Muir knew that bankers could not rest quietly on their laurels in the prosperous 50s. They had to go out and get business. Muir became a prolific world traveller – by 1953 he had logged 100,000 air miles.

Read More


Did You Know?
Did you know that during construction of Royal Bank's London England branch in 1932, a mosaic from a buried Roman home was found at a depth of 20 feet during excavations for the vaults?

back to top