Helping Canadian professional visual artists paint their own picture of success.
Thanks to all the artists who participated in the 2009 RBC Canadian Painting Competition. The national winner and two honourable mentions were announced at a gala reception on October 7, 2009 at the Le Musée d'art contemporain de Montréal.
The 2009 RBC Canadian Painting Competition winner and two honourable were:
National Winner
Brenda Draney, Vancouver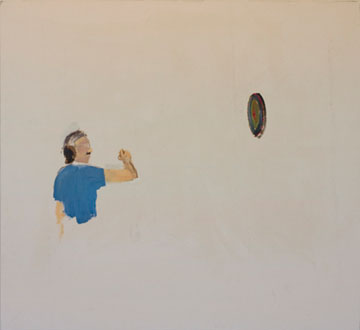 AIM IS IMPORTANT
Oil on canvas
48" x 52"
February 2009
Brenda Draney is interested in how memory, which is by its nature personal, operates in families, communities and cultures. While her paintings source her own memories, she is less concerned with documenting a memory as she is with the process of remembering and getting her hand to remember. She sees her work as a gesture toward a remembered thing, person or event and hopes that the viewer will be willing to do the work of connecting images to create the story around the moments, elements and omissions. The space in the canvas is important, she says, whether it is about what is forgotten, kept secret or filled in by a viewer. "Narrative is based on what is missing, and that absence is important and present in my work." Brenda Draney holds a BA in English Literature and a BFA from the University of Alberta, and a Master of Applied Arts degree from Emily Carr University of Art and Design.
Honourable Mentions
Martin Golland, Toronto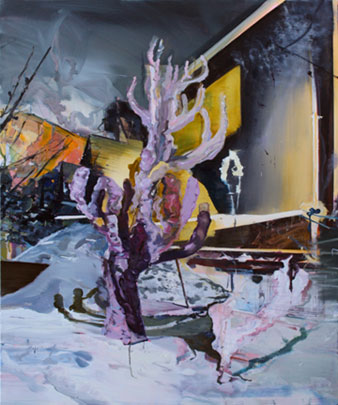 RESIDENTIAL NIGHT VULTURE
Oil on canvas
60" x 50"
April 2009
Martin Golland's paintings evoke sensation, discovery and disorientation through the use of architectural spaces that appear improvised, overlooked or cobbled together. Emptied of all figures, his scenes nonetheless leave traces of hidden, ritual activity in what appear to be transitory or transitional spaces. His intent, he explains, is to mark out a range of slippage between the imagined and the real. "By using a collection of painting strategies that compete and undermine each other, the existing transitory zones act as a metaphor for the fractured phenomenon of perception," he writes. "Disjunctive shifts of space encourage the mind's sway between reverie and dread." Martin Golland received his BFA from Concordia University in Montreal, and his MFA from the University of Guelph. He has exhibited his work across Canada and in Europe and currently teaches painting at the University of Ottawa.
---
Sasha Pierce, Toronto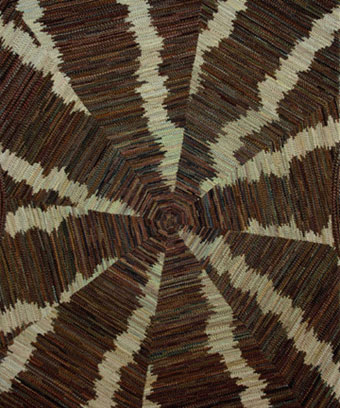 BROWN
Oil on canvas
24" x 20"
October 2008
Sasha Pierce's meticulously constructed canvases bear an uncanny resemblance to the textures of fabrics. Experimenting with colour, composition and texture, she uses oil paint to evoke the tactility of textiles in works that recall hand-made knits. The inherent physicality of her medium, and its fluidity, allow for the close juxtaposition of thin channels of paint that read like threads or strands of wool, so that her abstract works hint at representation with an almost trompe-l'oeil effect. And while her labour-intensive compositions place her work in the tradition of 20th century abstraction, her paintings may also be seen as a clever nod to the proliferation of sewing, stitching, and knitting in contemporary art in recent years. Sasha Pierce received a Bachelor of Arts from the University of Guelph, and a Master of Fine Arts from the University of Waterloo and currently lives and works in Toronto.