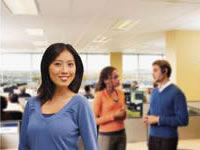 Global Technology and Operations and Global Functions
More than 18,000 employees in Global Technology and Operations (GTO) provide the essential information technology and operations capabilities necessary to support our diverse business activities. In partnership with our businesses, GTO provides processing and fulfillment support, direct customer sales and service through its contact centres and technology that enables the delivery of a secure, flexible, reliable and convenient client experience.
Our Global Functions support business growth by providing the mission critical control management systems, training and expertise necessary to meet our regulatory, financial reporting, balance sheet management and corporate funding requirements. Global Functions also provide leadership related to critical enterprise assets, including our people and our brand and contribute to the development of the enterprise strategy.

Achievements in 2007




In partnership with our businesses:

•
GTO delivered on more than 319 million ATM transactions, 132 million client calls, 105 million online banking transactions, 2.7 billion point-of-sale transactions and 100 million equity trades.
•
GTO focused on enhancing the client experience through improved service levels and Interactive Voice Recognition changes in our contact centres, redesigning key processes using Lean Six Sigma techniques, eliminating top client irritants, and creating an end-to-end client services commitments framework.
•
Global Functions contributed to our financial performance by effectively managing capital, employing innovative strategies to diversify funding sources, enhancing the productivity and engagement of the workforce, developing successful cost management initiatives, supporting the businesses in maintaining credit quality and our risk profile, and effectively managing our tax position.
•
Global Functions supported enterprise M&A activity by conducting comprehensive due diligence and negotiations and managing stakeholder relations in all major transactions, including six international acquisitions.
•
In November 2007, Global Functions launched the first covered bond program by a Canadian issuer, further enhancing our liquidity position and diversifying our access to wholesale funding.

---

2008 and beyond
•
GTO will enable business strategies by driving innovative process and technology improvements that simultaneously deliver a differentiated client experience and increased defined operating leverage.
•
Global Functions will contribute to our financial performance by working to maintain a solid balance sheet, sound credit quality and capital ratios, effectively manage our tax position, and implement cost-saving initiatives while improving the alignment of business strategies and risk exposures.
•
By collaborating with our businesses:

| | |
| --- | --- |
| – | GTO will work to make it easier for clients to do business with us while enhancing client services, executing against our risk and compliance objectives, and ensuring the safety and soundness of our infrastructure |
| – | Global Functions will support business growth by attracting, retaining and motivating talented employees and maintaining a strong governance and compliance regime, a relevant and customer-centric brand strategy, enterprise strategy development, proactive enterprise compliance, and solid relationships with investors, credit rating agencies, regulators and other stakeholders. |