The businesses in RBC Canadian Personal and Business continued to strengthen our leadership position in most major product categories by expanding our distribution network, enhancing our products and services, better meeting our client needs and deepening our client relationships.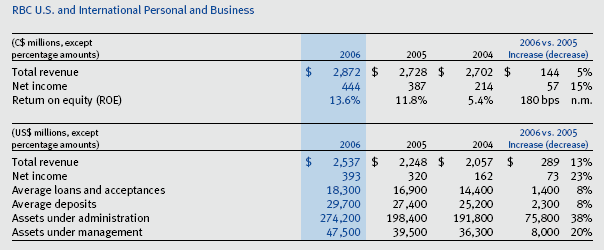 The wealth management and banking businesses in RBC U.S. and International Personal and Business continued to build scale and capabilities through a combination of organic growth initiatives and acquisitions. In 2006, we expanded our distribution network and products and services, and focused our expansion in fast-growing markets and regions.


(1) Taxable equivalent basis (teb).
By successfully executing growth plans, the businesses in RBC Capital Markets maintained our position as the undisputed leader in the Canadian market, and expanded our activities in the U.S. mid market and our global infrastructure finance platform.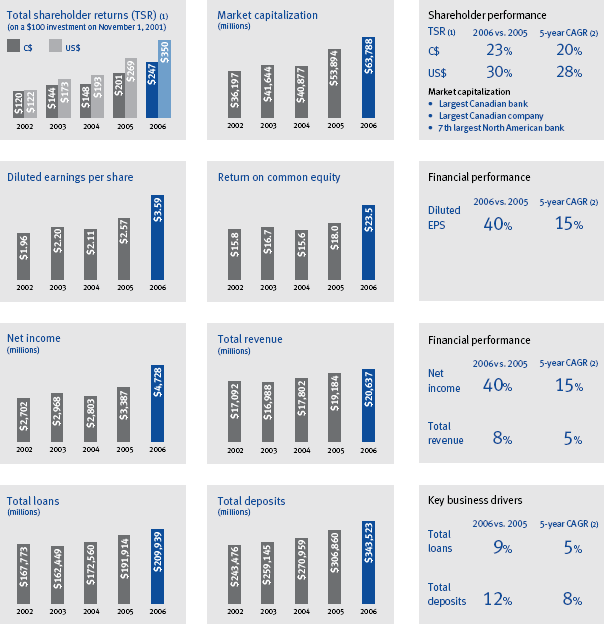 Note: All data in Canadian dollars unless otherwise stated.
(1)
TSR – Total shareholder return is price appreciation plus dividends reinvested, annualized.
(2)
Five-year compound annual growth rate (CAGR).