July 12, 2019 - In recognition of their significant contributions to the financial technology (FinTech) sector, three RBC leaders have been included as part of Canada's Top 50 Women in FinTech by the Digital Finance Institute (DFI):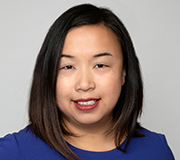 Jenny Lin, Vice-President,
Technology & Operations – Business Financial Services (BFS)
Jenny is responsible for the strategy, execution and support of technology applications and processes to enable RBC's commercial banking clients. She spearheads the BFS team's efforts to build and adopt digital innovations at scale, leverage next generation technologies and form strategic partnerships within the fintech ecosystem to deliver seamless, digitally-enabled experiences that are best-in-class for clients and employees.
Jenny joined RBC in 2017 with extensive senior leadership experience in the financial services sector, including TD Bank where she was the Associate Vice-President of Innovation & Ventures. There, she oversaw a $100MM fund to commercialize disruptive technologies within multiple parts of the bank including retail, commercial, wealth and capital markets. She also held previous roles in investment banking with Morgan Stanley in New York, and as a Management Consultant at Bain & Company and Deloitte in Toronto.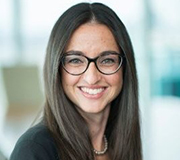 Simona Salter, Vice-President Payments Strategy, Cards, Payments & Banking
Simona leads a diverse portfolio in emerging payments strategy, mobile payments, integrated strategic planning, and decision management.
Focusing on the full value chain, B2B2C, Simona partners closely with RBC's enterprise innovation, payments, corporate development, and lines of business teams to evaluate the disruption and modernization of the future payments landscape at RBC, as well as develop new strategies and unique value propositions that will attract and engage the modern customer.
Prior to joining RBC, Simona held senior leadership positions at American Express, Chase Card Services, Harlequin Enterprises, Monitor Company, and has spent time in the high tech SME space.
Simona's expertise spans new product development, digital payments, governance, merchant acquiring, business development, and general management.
Simona is passionate about mentorship and sponsorship and is focused on developing talent and instilling a growth mindset within her team.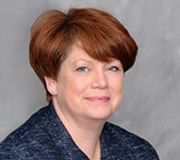 Jennifer Stott, Senior Vice-President & Chief Data Officer
Jennifer oversees data governance for the organization and ensures data continues to deliver better experiences to our clients and communities.
Since joining RBC 30 years ago, Jennifer has held a variety of technology roles, including the SVP for Investor & Treasury Services Technology, where she provided leadership and strategic direction for the global IT team.
Jennifer is also a Board member of Shad, an entrepreneurship program and network that empowers exceptional high school students to become tomorrow's leaders and change makers.
Canada's Top 50 Women is an initiative launched this year to continue the Institute's efforts in supporting women in tech. The Top 50 women in this report were selected based on their leadership, vision & innovation, engagement & impact and their commitment to growing the FinTech community.
The DFI conducted a Canada-wide study on the FinTech ecosystem, which included in-depth research into prominent female leaders in the financial technology industry. Over 400 extraordinary women were recommended as leaders in FinTech for this report.
Congratulations to Jenny, Simona and Jennifer on this exciting and well-deserved recognition!