Since embarking on our U.S. expansion strategy in April 2000, we have made 12 U.S. acquisitions for approximately US$5.5 billion. The acquisitions of Centura Banks, Inc., Liberty Life Insurance Company and Dain Rauscher formed the base of our U.S. banking, insurance and brokerage platforms, respectively. We made subsequent acquisitions in banking and brokerage that have diversified our operations, increased our customer base, enhanced our geographic presence and created opportunities for greater synergies.
Our U.S. acquisitions have diversified our revenue stream, and resulted in an increase in the proportion of U.S. revenues from 7 per cent in 2000 to 27 per cent in 2003. These acquisitions have also increased our total customer base by approximately 2.4 million or 24 per cent. Net income from our U.S. acquisitions made since April 2000 was C$251 million in 2003 versus C$232 million in 2002, while net income from all of our U.S. operations was C$382 million in 2003, up from C$210 million in 2002.
RBC Centura
RBC Centura forms the foundation from which we are growing our personal and commercial banking business in the Southeastern U.S., an attractive market given its growth profile and opportunities for further consolidation. Currently, RBC Centura has approximately 800,000 personal and commercial clients, 242 retail and business branches in five Southeastern states, and national mortgage origination and builder finance businesses in RBC Mortgage and RBC Builder Finance. RBC Mortgage has the capability to do business in all 50 states and RBC Builder Finance has 33 offices in 26 U.S. states. In 2002, RBC Centura finalized its acquisition of Eagle Bancshares for US$149 million.
RBC Centura branch network in the Southeast U.S. (1)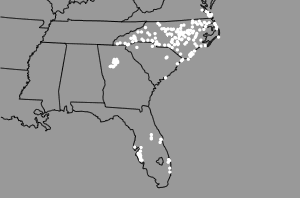 (1) Excludes branch locations for RBC Mortgage and RBC Builder Finance
which are located throughout the United States.
The 14 branches acquired provide a valuable footprint in the attractive and high-growth metropolitan Atlanta market. In January 2003, RBC Centura completed its acquisition of Admiralty Bancorp for US$153 million. This acquisition secured a footprint in the lucrative and fast-growing Southern and Central Florida markets. In addition to geographic expansion, RBC Centura has also grown organically in the U.S. through product innovation, enhanced sales techniques and improved service through technology investments. In the last year, new mortgage, savings account, small business and professional service programs were launched. RBC Centura has also made significant efforts to strengthen its sales culture, and has been proactive in contacting clients and offering them incentives for referring new business.
Building a sizable U.S. platform
U.S. acquisitions since April 2000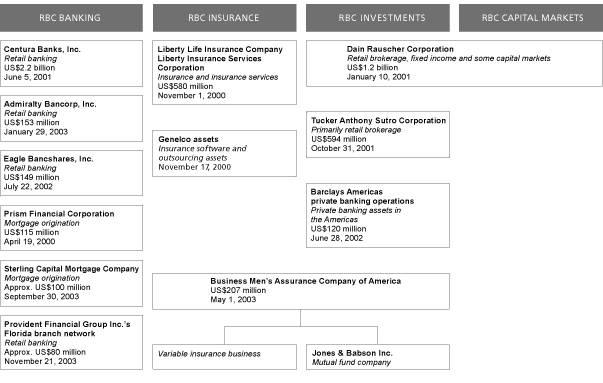 Proportion of U.S. revenues growing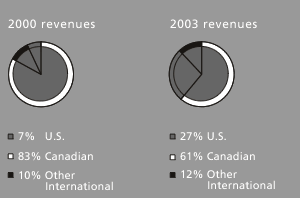 RBC Dain Rauscher
RBC Dain Rauscher, our U.S. full-service brokerage operation, acquired Tucker Anthony Sutro in 2001, and the acquisition and integration have been very successful. The combination of these two companies virtually doubled the size of our U.S. wealth management platform. RBC Dain Rauscher is now the eighth-largest full-service brokerage firm in the U.S., based on financial consultants (approximately 1,750), and it has a national network of 140 brokerage offices in 39 states and US$97 billion in assets under administration. We believe the long-term prospects for the wealth management business are solid given demographic trends and the significant intergenerational wealth transfer expected over the next few decades. In 2003, RBC Dain Rauscher focused on improving customer service, containing costs, growing fee-based products, and recruiting and retaining high-performing financial consultants. To date, approximately 860 financial consultants have taken the wealth management program that was designed to help them broaden and deepen relationships with clients. The top 25 per cent of financial consultants who took the course saw their business increase 24 per cent on average, while the firm's average financial consultant saw their revenues decline by 17 per cent during the same period. Moreover, with the pickup in fixed income production in 2003, the financial consultants were a key distribution arm for fixed income products.
RBC Insurance
In 2003, RBC Insurance expanded into the variable insurance business via the acquisition of Business Men's Assurance Company of America (BMA). In a related transaction, RBC Dain Rauscher acquired Jones & Babson Inc., BMA's mutual fund company with US$1.1 billion in assets under management. This purchase provides us with the infrastructure to offer wealth management oriented insurance products. Building on the strength of our leading position in the Canadian travel insurance market, we launched travel insurance in the United States in September. We are distributing our travel insurance products through travel agents in 34 states, with plans to expand nationwide by the end of calendar 2003.

Net income from U.S operations (1)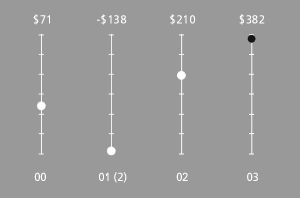 (1) In C$ millions, based on U.S. GAAP.
(2) Included U.S. retail banking restructuring charge of $57 million after-tax.
A disciplined approach to acquisitions in 2003
We continued to expand in the U.S. in 2003, in a very disciplined and focused manner. In addition to the purchase of Admiralty Bancorp discussed on page 13, RBC Centura acquired the Florida operations of Provident Financial Group in November 2003, for a premium of approximately US$80 million. We expect the transaction to be accretive to earnings by fiscal 2005. This acquisition will add 13 branches to RBC Centura's existing 10 Florida branches acquired through Admiralty Bancorp.
In September 2003, RBC Mortgage Company completed its acquisition of Sterling Capital Mortgage Company (SCMC) for approximately US$100 million. This purchase is expected to be accretive to earnings in fiscal 2004 and places RBC Mortgage among the top 10 retail mortgage originators in the U.S., as measured by the volume of mortgage originations. The deal provides a valuable footprint into the high-growth California and Texas markets, and includes SCMC's 110 branch locations in 16 states, and 16 Affiliated Business Arrangement joint ventures, co-owned in partnership with residential home builders. Most of SCMC's loans come from retail sources – that is, new home purchases and home builder originations, which are less sensitive to interest rate changes than mortgage refinancings. RBC Mortgage Company also acquired Bank One's wholesale first mortgage and broker home-equity origination capabilities in August 2003. Terms of the agreement were not disclosed. These two acquisitions are consistent with the bank's strategy of growing national niche lines of business. RBC Mortgage expects to leverage its relationship with RBC Builder Finance to grow new home builder business and provide financing to existing builders.
RBC Dain Rauscher acquired 600 institutional and 4,000 high net worth clients and expanded its private client and institutional fixed income business through its acquisition of New Jersey–based First Institutional Securities in March 2003.
Future U.S. expansion
Our near-term priority for the U.S. continues to be on meeting our operating targets and adopting best practices to enhance revenues, efficiency and profitability. We want to grow in a disciplined fashion and are investing in markets with good growth prospects and potential for solid shareholder returns. We also want to grow by acquisition, but only if our financial (accretive to earnings per share in two to three years), strategic (presence in businesses or regions we have targeted for expansion), and cultural (similar values and future plans) criteria are met. Our focus will be on continuing to grow our U.S. personal and commercial banking operations, with an emphasis on targeted acquisitions and de novo expansion in the Southeast U.S. A total of 25 to 30 branches are expected to be added organically in four states (North Carolina, South Carolina, Georgia and Florida) in 2004, with another 20 to 30 new branch openings slated for 2005. RBC Dain Rauscher also plans to grow by expansion of the branch office network, recruiting top financial consultants (our objective is to increase the number of financial consultants from 1,750 to 2,500 in three years), and making small opportunistic acquisitions of existing brokerage operations or assets.
Expansion outside North America
Outside North America, we have successful niche businesses such as global custody, trading and private banking.
In terms of our global custody operations, we have been successful in growing our business internationally; we have won large mandates in 2003 with assets under administration totalling approximately $18 billion and expanded our service proposition to include performance analytics.
Much of the growth in RBC Capital Markets outside North America has been organic rather than by acquisition. We continue to be the Canadian leader in foreign exchange, with global trading volumes exceeding $35 billion daily through trading rooms in Toronto, New York, London, Sydney and Tokyo. Our international bond business continues to grow quickly. In the United Kingdom, our infrastructure finance team is the leading arranger and underwriter of bond finance to the housing sector and the primary innovator of structures used by social housing providers. This group is also active in rail, road, school and hospital financing in the U.K.
Royal Bank of Canada Global Private Banking has been successful in recruiting teams of professionals from Latin America, the British Isles, Switzerland and throughout Asia, bringing in more than $2 billion of client assets in 2003. Our growth strategy continues to include strategic niche acquisitions and hiring of specialists or teams of private bankers with an aggressive sales and marketing focus.