This report is titled after our vision, Always earning the right to be our clients' first choice. Our accomplishments are detailed in this report and they demonstrate our strengths and the power of our Client First Initiative, a strategy designed to generate value for clients and shareholders.
I am pleased to report to you that we delivered record performance in 2005, and an impressive 35 per cent total return to common shareholders (the combination of share price appreciation and dividends). We streamlined all of our operations to make us more cost-effective while each of our business segments grew revenue by successfully executing their strategies in favourable economic conditions. Together, these efforts resulted in impressive operating leverage (the difference between revenue growth and non-interest expense growth rates) for the year and a solid foundation for our future growth. In addition, we further enhanced our best-in-class risk, capital and human resource practices – all important contributors to shareholder returns. Most importantly, our business growth and enhanced efficiency was achieved while our client satisfaction strengthened.
All business segments and corporate support areas identified numerous cost initiatives with specific targets to improve our productivity and flexibility and they delivered on a number of them in 2005. Savings from
these initiatives are being reinvested into both product and client facing initiatives in order to fuel further revenue growth.
Our Global Technology and Operations group delivered savings by bringing together all of our technology and operations capabilities, by consolidating operation centres, creating centres of excellence or expertise such as contact centres and securities processing centres, and by selectively expanding the use of offshore information technology. Our Global Functions group also enhanced efficiency while maintaining our risk profile, lowering our cost of capital and elevating our performance management capabilities.
We have taken steps to provide our clients with greater access to our services and products. For example, our Canadian business clients can now open a new business account the same day they walk into most branches across the country. Our personal clients with smaller investment accounts now have access to world-class, structured investment solutions designed to meet their investment objectives. A detailed discussion of our RBC Canadian Personal and Business segment's efforts to serve our 13 million clients better and key operating highlights for 2005 are provided on pages 8 to 11.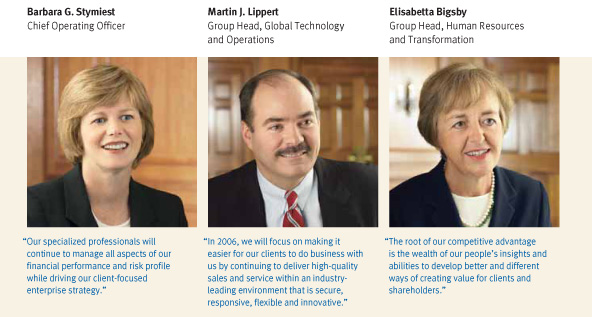 In the U.S., our commercial and small business clients were given more options and greater flexibility to manage their businesses with enhancements to our suite of products and services such as new longer-term mortgages on owner-occupied real estate at fixed rates. In addition, our U.S. clients in their pre-retirement years received enhanced solutions to help them better plan for their retirement through the launch of our Converting Wealth to Income initiative. A detailed discussion of our RBC U.S. and International Personal and Business segment's 2005 operating highlights is provided on pages 12 to 15.
In 2005, our institutional clients gained better access to our global distribution and world-class fixed income expertise through the integration of RBC Dain Rauscher's fixed income operations into our global markets business. A detailed discussion of RBC Capital Markets and the segment's 2005 operating highlights are provided on pages 16 to 19.
We have invested and will continue to invest in our businesses, in ways to better service our clients, whether through more accessible channels, more branches in high-growth markets, more people to serve clients in key markets or more innovative products. Our objective is to maintain the highest level of client satisfaction while providing top-tier returns to our shareholders.
2005 Performance review
We met or exceeded most of our objectives in 2005. Diluted earnings per share growth was in excess of 20 per cent and return on common equity of 18 per cent was within our targeted range. Revenue growth of 8 per cent reflected successful execution of a number of carefully planned initiatives in Canada, the United States and outside North America and favourable economic conditions. While our non-interest expenses were up 5 per cent, they were flat excluding a litigation reserve taken for pending Enron Corp.-related actions. Strong risk management, a relatively benign credit environment and higher corporate recoveries resulted in good portfolio quality performance. In addition, we strengthened our capital position to remain comfortably above our objectives, while achieving a dividend payout ratio of 45 per cent, within our target range. Our common share dividend was up 16 per cent in 2005.
In 2005, our shareholders benefited from a 31 per cent increase in our common share price and from three dividend increases, resulting in a total shareholder return of more than 35 per cent. Over the past 10 years, we have delivered an annualized total return to common shareholders of 22 per cent.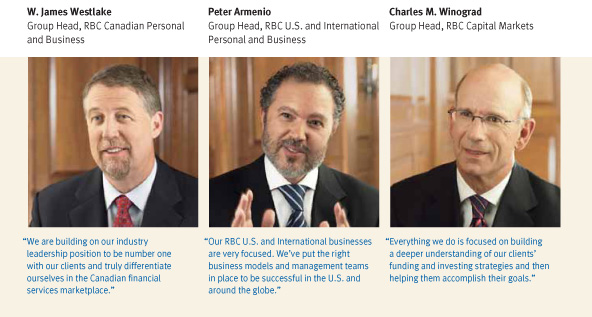 2006 Outlook and objectives
We believe we have set aggressive financial objectives for 2006, as shown on page 7, on the expectation that the Canadian economy will remain strong while the U.S. economy may slow moderately in response to higher interest rates. We expect the pace of growth in retail lending to slow next year given increases in interest rates, higher energy costs and the expected softening of the housing market and the resulting effect on the demand for durable goods. Business lending is expected to grow at a similar rate as in 2005 given continued investment in inventories.
We made changes to our return on equity (ROE), expense control, portfolio quality and capital management objectives for 2006 compared to the objectives we had in place during 2005. We have raised the ROE objective to 20 per cent plus from 18 to 20 per cent and replaced the expense control objective with an operating leverage objective as we believe it is more meaningful to look at expense growth in relation to revenue growth. We have also increased the portfolio quality (specific provision ratio) objective reflecting our view that 2006 will present fewer recovery opportunities. In addition, we have set a floor for the Tier 1 capital objective of 8 per cent rather than a range, and removed the Total capital ratio objective as our key stakeholders consider the Tier 1 capital ratio the primary measure of capital strength. Needless to say, it is our objective to continue to consistently generate strong returns for our shareholders.
We have narrowed our medium-term (defined as three to five years) objectives down to one goal – to consistently generate top quartile total shareholder returns in relation to our Canadian and U.S. peer group. We expect to continue providing financial objectives on an annual basis.
RBC strategic goals
Our three enterprise goals are:
1. To be the undisputed leader in financial services in Canada.
2. To build on our strengths in banking, wealth management and capital markets in the United States.
3. To be a premier provider of selected global financial services.
We performed well against these goals in 2005, increasing market shares in many key products in Canada, improving our positions and performance in key businesses in the United States, and growing in select global areas, such as the Caribbean, Global Private Banking and international capital markets operations.
We are committed to making further progress against our key goals in the future, mindful of the challenges the upcoming year poses, including increased competition in the Canadian market, volatile capital markets activity, the potential for higher energy prices and rising interest rates. Our response to these and other challenges will be rooted in our ability to leverage our competitive advantages, continually seek new ways to grow revenue and maintain disciplined cost management, and optimize our use of capital.

Corporate responsibility and governance
Our approach to sound corporate governance starts at the top with a non-executive Chairman and knowledgeable, well-informed directors whose main focus includes overseeing management, strategic planning, ensuring standards exist to promote ethical behaviour and continuous improvement to governance practices. A description of our corporate governance system and board committee mandates and activities is on pages 144 to 145.
We believe that good governance and corporate responsibility require controls and programs to promote a proactive governance culture within our global network. At RBC, our ethical and corporate leadership is founded on controls, policies and practices directed at strengthening the Board of Directors' supervision of management and creation of value for shareholders, employees, clients and communities. A discussion of our approach to corporate responsibility and how we operate our business, support economic prosperity and contribute to communities is outlined on pages 25 to 28.
The strength of our corporate responsibility is founded on our commitment to high standards of governance and integrity in all facets of our business activities. Our employees understand that our success is founded on ethical behaviour, teamwork and our commitment to providing value to all stakeholders.
Our employees
Our strong performance this past year reflects the tremendous dedication, commitment and hard work of all of our employees. Our employees are continually looking for ways to earn the right to be our clients' first choice. Our renewed strategic direction, sharpened focus on clients, revenue growth and cost management are the right steps to enable us to continue providing top returns for our shareholders. When these actions are combined with the quality, diversity, insight and abilities of our employees, we believe we can increase the distance between us and our competitors.

Gordon M. Nixon
President and Chief Executive Officer