At the end of a very challenging year, RBC stands apart as a globally significant, strong and stable financial institution. We had top quartile shareholder returns for one-, three-, five- and 10-year time horizons versus our North American peer group and today we are one of the largest banks in the world based on market capitalization. We are one of only a handful of banks globally with a Aaa-rating by Moody's Investors Service, and are among the most respected and well recognized banks for our corporate citizenship.
In fiscal 2009, we generated net income of $3.858 billion, which reflects a goodwill impairment charge of $1 billion on both a pre-tax and after-tax basis that did not affect our ongoing operations. Excluding the goodwill impairment charge, adjusted net income of $4.9 billion was up 7 per cent from a year ago, reflecting strong performances in Canadian Banking, Capital Markets, Wealth Management, and Insurance.
Our consistently strong performance is due to our diversified business model, our strong balance sheet, a comprehensive approach to risk management, a clear long-term strategy and the efforts of employees who are proud to be part of RBC and committed to always putting our clients first.
The financial crisis and resulting economic downturn posed difficult conditions for our clients, but our people worked diligently to help them achieve better outcomes by extending credit and providing advice and service that leveraged our global capabilities, expertise as well as our competitive and financial strengths.
While the environment last year proved the strength of our business model, it also spurred all our businesses to find new ways to be more efficient and productive. In addition to a Tier 1 capital ratio of 13 per cent and low leverage relative to our global peers, our sharper focus on cost management will ensure that we are able to reinvest those savings in the solid growth opportunities provided by improving investor confidence, stronger credit and equity markets and recovering asset values.
We are a better company today than we were before the crisis began. We are armed with the wherewithal to invest and innovate so that we may further enhance our strengths and take the necessary steps to address our challenges. Our competitors are retreating from businesses in the face of capital constraints, government ownership, new regulatory hurdles or re-focused strategic priorities. In contrast, our strength, stability and diversified business model, combined with our risk management and financial performance have given us an unprecedented range of strategic opportunities. We are actively looking to invest in key business areas, as well as to explore potential acquisitions that meet our strict economic, strategic, and cultural criteria.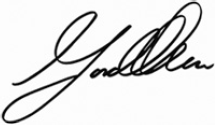 Gordon M. Nixon
President and Chief Executive Officer