Our diverse CAPITAL MARKETS businesses provide corporate, government, and institutional advice, capital, and access to the world's financial markets and innovative products to help them achieve their growth objectives. By leveraging our leadership position in Canada, we have built a strong and growing U.S. mid-market capital markets franchise. Outside North America, we have established ourselves as a leading provider of global financial services and are recognized as a top 15 global investment bank. Notable areas of strength include global fixed income distribution capabilities, structuring and trading, and foreign exchange. In addition, we continue to build our global capabilities in energy, mining and infrastructure finance.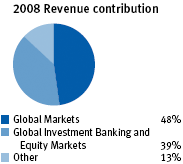 2008 Key performance highlights
•
2008 financial performance in Capital Markets was significantly impacted by writedowns resulting from the challenging market environment. These writedowns reduced revenue by $2,091 million compared to $393 million last year and reduced net income by $920 million after-tax and related compensation adjustments as compared to $173 million last year.
•
Many of our Capital Markets businesses continued to perform well, despite the challenging environment, including certain fixed income and foreign exchange trading businesses along with our U.S. cash equities and lending businesses.
•
Notwithstanding the market environment, our diversified platform and strong risk management allowed us to generate ROE of 20.5%, down from 26.6% last year.
•
Average assets were up $29 billion, or 9%, primarily due to an increase in derivative assets, largely reflecting increased market volatility and an increase in loan assets due to growth in corporate lending activities.
Business achievements in 2008
•
We continued to be Canada's leading global investment bank, as reflected by the following noteworthy recognitions:

–
Dealmaker of the Year in Canada for five of the past six years (Financial Post)
–
Global ranking of 12th in the Bloomberg 20 (2007)
–
Number one ranking in Canadian M&A, equity underwriting and corporate debt financing (Bloomberg, 2007)
–
Global Bond Arranger of the Year (Project Finance magazine, 2007), recognizing our strength in infrastructure finance and our global bond platform
–
Best Investment Bank in Canada (Euromoney)
–
Our research team was recognized for its ability to provide investment research on a North American and, increasingly, on a global level

–
Global ranking of 12th in the World's Best Stock Pickers awards (Bloomberg)
–
Number one (tied) in the StarMine Analyst Awards
(Financial Post)

•
We strengthened our market share in our U.S./global equity capital markets businesses, ranking 12th and 19th according to Dealogic (U.S.) and Bloomberg (global), respectively.
•
We launched global capabilities for greenhouse gas emission trading, acting as a market-making provider, taking principal risk, providing pricing liquidity and facilitating hedging for clients on exchanges in Canada, the U.S. and Europe.

---

2009 and beyond
•
We will strive to remain the Canadian wholesale client's first choice for financial products and services.
•
In the U.S., we will build on the solid performance of our investment banking and equity sales and trading businesses to strengthen relationships with our clients and expand our market share.
•
Further extend our U.K. infrastructure finance and project advisory capabilities in the European, U.S. and Canadian markets. We will further enhance our municipal banking business and expand our leveraged finance capabilities to grow our European client base.
•
We will continue to build out our capabilities and infrastructure to support our global energy and mining businesses, expand our commodities franchise and enhance our electronic trading platforms. In addition, we will focus on expanding our leveraged finance capabilities to grow our European client base.
•
We will focus on making further investments in our debt capital markets businesses within our Asian and New York-based emerging markets distribution platforms to deliver fixed income and structured products to high net worth and institutional clients.