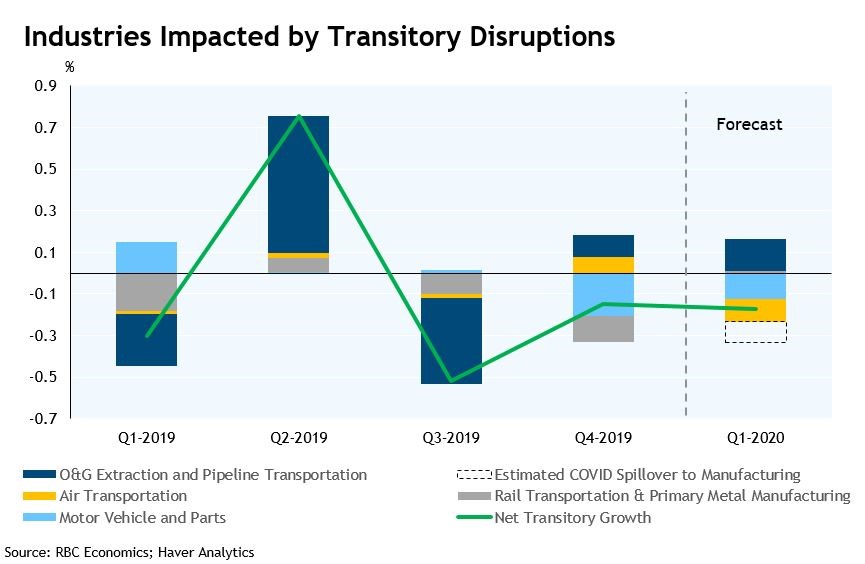 Canadian GDP edged lower in November
November's GDP release was pretty much as expected, coming in on consensus with a 0.1% decline. Even the details were fairly predictable—manufacturing, wholesale and retail trade slowed (as flagged in earlier reports) and transportation and warehousing activity was down for a second consecutive month as the Canada Post strike continued through nearly all of November. And oil and gas extraction fell due to weather-related disruptions on the East Coast (there were also reports that oil companies began curtailing production amid steep discounts on Western Canadian oil). We think much of this slowing will prove transitory, but over varying timeframes. Weakness in the transport sector will have reversed in December as labour disruptions ended. A slowdown in the energy sector will last a bit longer. Drilling activity was down in December and larger mandated production cuts will have weighed on oil output in January. The Alberta government just announced that production cuts will start to ease back in February and March, which should relieve some of the downward pressure on activity. But that won't be enough to salvage first quarter growth.
View Full Report about Canadian November 2018 GDP
Recent Updates
| Release Date | Report Name | Download |
| --- | --- | --- |
Free Economic Alerts
Receive an email alert as soon as this publication goes live on the RBC Economic Research site. This free service is reserved for RBC clients and staff.
Subscribe Now

to Free Economic Alerts