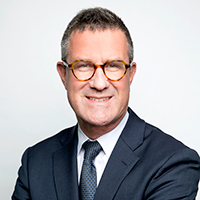 Christoph Knoess
Chief Administrative & Strategy Officer
Chief Administrative & Strategy Officer
As RBC's Chief Administrative Officer Christoph Knoess has responsibility for Brand, Marketing, Citizenship and Communications, Global Procurement, and Corporate Real Estate functions globally. Additionally, he provides leadership and oversight on strategic and transformational initiatives across RBC to modernize and scale important enterprise capabilities designed to position RBC for the future including data and analytics and productivity and efficiency. Along with other members of RBC's Group Executive, Christoph is responsible for setting the overall strategic direction of RBC.
Christoph is a seasoned executive with more than twenty years of experience advising leading financial institutions in the execution of digital strategies and transformations, operating model design, technology modernization, and enterprise-wide cost and operations improvement. Prior to joining RBC, Christoph was a Partner at McKinsey where he led the Core Tech Transformation and Agile Transformation teams and a Partner at Oliver Wyman where he led the Digital, Technology and Analytics practices globally. A dynamic leader, Christoph has also worked in interim executive roles in Digital, Software Development, Technology Transformation, and Operations for a number financial institutions including RBC.
Christoph has been recognized for his work in innovation management and value-chain partnerships, and is a supporter of Parent Child+, a not-for-profit organization fostering early childhood literacy for families living in underserved communities.
Over the course of his career, Christoph has worked with organizations across Europe, the Americas, the Middle East, and Australia. He holds a joint MBA / MS equivalent degree from the University of Darmstadt in Germany. Christoph is married with one child.
Related Media
Additional assets