Focused on Environmental Management and Continuous Improvement
green@RBC e-newsletter
Our deep involvement in our environmental programs gives us a unique perspective and knowledge base. Tap into that knowledge and learn about our latest projects and research in our free e-newsletter.
Subscribe Now
Working Towards a Sustainable Future
$4B
In renewable energy financing in 2017.
$5.1B
In green bond underwriting in 2017.
How We Measure Our Impact
Aligned to the United Nations Sustainable Development Goals (SDGs), the RBC Impact Measurement Framework (IMF) simplifies how we measure our impact.
Learn more about RBC's outcomes and results.
RBC Environmental Initiatives Outcomes and Results
Learn more about how we measure our impact.
Reducing our environmental footprint
23.5% reduction in greenhouse gas emissions intensity since 2012
99% of electronic waste diverted from landfills in 20171
80% of waste diverted from landfills in 2017
32.5% reduction in office paper use per employee since 2012. The mean paper usage per employee has decreased by almost half of a tree per year, compared to 20122
693,185 m2 of LEED certified office space3. That is equivalent to 16% of our global floor area, or 95 soccer fields
Generating new business opportunities
$5.1 billion in green bond underwriting in 2017 – 219% growth since 2014
$4 billion in renewable energy financing in 2017 – 90% growth since 20124
Mitigating and adapting to climate change and minimizing natural resource consumption
700+ million tonnes in carbon credits traded since 2012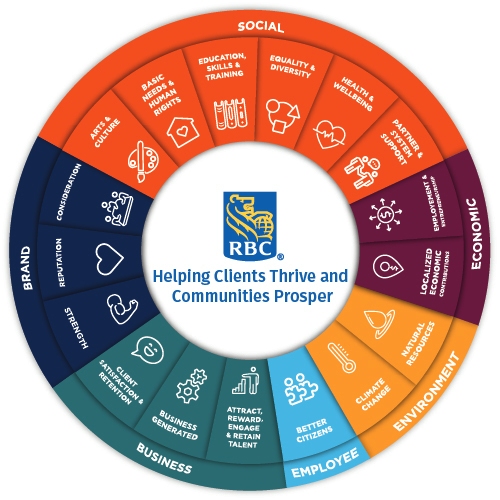 1
2017 data for operations in Canada, the U.S. and the Caribbean represent 86% of our total FTE count.
2
Environmental impact estimate made using the Environmental Protection Agency Greenhouse Gas Equivalencies calculator.
3
2017 number includes City National Bank
4
As at October 31, 2017. Calculated based on "Authorized" amount.
How RBC's Environmental Initiatives align to the UN SDG's: