Internships
At RBC, internships allow you to apply your skills from the classroom to real-life projects. No busywork or running errands. You'll engage in tangible projects with meaningful impact to gain the real-world experience you'll need to kick-start your career and shine.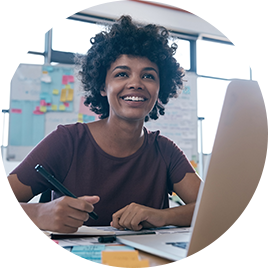 Build Your Community with Financial Insight
Our strong dedication to diversity and the Indigenous People of our country is the catalyst behind our internship program. In this three-year summer experience, you'll become a vital part of our team, experiencing the challenges and rewards of our dynamic financial business at one of the largest banks in the world.
Supporting Your Progress
You'll be exposed to a wide range of career options, as you train for client service representative and account manager roles. We'll support you every step of the way with coaching, mentoring and our regional Indigenous Peoples Employee Resource Group.
Apply to Build a Future Together
High-performing interns can receive advanced full-time offers for post-graduation. It's a powerful head start to a full-time career as a financial professional.
Search by key words "Aboriginal" and "summer".
Apply Now

to Build a Future Together
Pursue Your Potential (PYP)
Participation in PYP for Job search assistance is voluntary and complimentary to your job application when you apply to a role(s) at RBC.
Register for PYP Aboriginal