Internships
At RBC, internships allow you to apply your skills from the classroom to real-life projects. No busywork or running errands. You'll engage in tangible projects with meaningful impact to gain the real-world experience you'll need to kick-start your career and shine.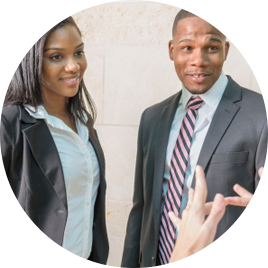 The RBC Career Launch™ Program
You've got the degree but not the experience, and that's the challenge. You need experience to land a job, but you need to land a job to get experience.
If you're a recent college or university grad looking for work experience, the RBC Career Launch Program is designed for you. This one-year paid internship may be just what you're looking for to kick start your career.
Application is now closed, please check out our other job opportunities.
Search Jobs
It's Your Career - Meet It Head On
3 unique work experiences in 1 year
First six months:
Work in a retail branch
Work directly with clients and build communication, teamwork and customer relationship skills.
Next three months:
Work with a charity
Play a role in helping communities prosper while gaining insights into the vital work of our charitable partners.
Final three months:
Work at our head office
Build on all that you've learned and contribute in one of RBC's functional areas (such as marketing, HR, finance, IT, or operations).
Unlock Your Potential
Through the Career Launch Program you will:
Develop through targeted coaching
Work with a dedicated mentor
Expand your network
Have dedicated time and resources to build 21st century skills
Gain insights to inform your career journey
RBC Launching Careers Playbook
RBC Career Launch Program Impact Report
Career Launch provides a unique experience to bridge the transition from academics to employment. With a few years under our belt, we've witnessed how this experience helps young people take a big step forward in their career journey.
RBC Career Launch Program 2017 Report

opens pdf
Addressing the Catch-22 White Paper
Published by RBC in partnership with the Canadian Career Development Foundation, this white paper put the voice of youth at the centre to help solve the school to work transition.
Catch-22 White Paper

opens pdf
How to Apply
Work hard, learn quickly, and RBC Career Launch will help get your career on the right track. Find out if you're eligible and how to apply below:
You must be:
Aged 24 or under as of March 21, 2018
A recent university or college graduate by December 6, 2017

Legally entitled to work in Canada for the duration of the program (March 2018 - March 2019)

Not currently employed by RBC
Not the child of or under legal guardianship of an Executive or Managing director at RBC as of the date of application
Available to work in one of the participating cities: Barrie, Burlington, Calgary, Guelph, Halifax, Hamilton, Kingston, Kitchener, London, Moncton, Montréal, Oakville, Oshawa, Ottawa, St. John's, Toronto, Vancouver, Waterloo, Whitby or Winnipeg
Able to attend an in-person panel interview in any one of the selected city you apply to without any financial assistance from RBC in February 2018.
Not Eligible?
Check out the other opportunities available with RBC Campus Recruitment and find one that's right for you!
Search Opportunities

(open in a new tab)
Important Dates
The Application Window is now closed.
Frequently Asked Questions