19th Annual "Skate with the Greats" Event Featuring Rangers Legends Raises More Than $800,000 for Ronald McDonald® House New York

New York Rangers Alumni Lend Star Power to Annual Fundraising Event Which Benefits Home Away from Home for Families Battling Pediatric Cancer
NEW YORK, February 11, 2013 — There's very little that can rival the magic that happens when the NHL's legendary New York Rangers hit the ice; especially when it's in celebration of the annual Skate with the Greats charity event to benefit Ronald McDonald® House New York. In its 19th year, Skate with the Greats once again took place on Friday, February 1st at New York City's famed Rink at Rockefeller Center, raising more than $800,000. The funds raised will help support the facility, which provides a home-away-from home for families staying in New York City while their children undergo active treatment for cancer.
Originally established with the support of alumni greats and longtime volunteers Rod Gilbert and Brian Leetch, the event included Mark Messier, Michael Richter, Ron Duguay, Nick Fotiu, Adam Graves, Ron Greschner, Stephane Matteau, Pete Stemkowski, and Gilles Villemure. Olympic Figure Skating Gold Medalist Sarah Hughes, and her sister, Silver Medalist Emily Hughes also joined the families and supporters of Ronald McDonald House New York for the event. The Rangers participation is made possible through a partnership with the Garden of Dreams Foundation, a non-profit charity that works closely with the Rangers and all areas of Madison Square Garden to make dreams come true for kids in crisis.
This year's title sponsor was RBC Capital Markets, with additional sponsorship from Bloomberg, Zurich, and PricewaterhouseCoopers, LLP (PwC).
"Community involvement has long been an important part of the culture at RBC," said Mark Standish, president & co-CEO of RBC Capital Markets. "Our partnership with Ronald McDonald House New York is a cornerstone in our commitment to give back to the community and also helps to build awareness of RBC in the U.S., particularly here in New York. We're honored to have partnered with the Ronald McDonald House for the past six years."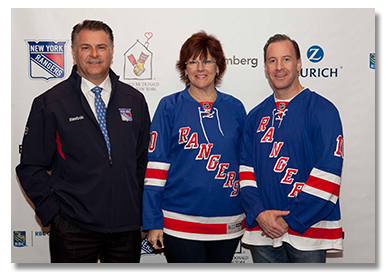 Attendees event enjoyed ice skating with Rangers on the iconic Rockefeller Center rink; a live and silent auction with items provided by the New York Rangers, RBC Capital Markets, Bloomberg, Zurich, and PwC, concluding with an autograph session with some of their favorite Rangers players.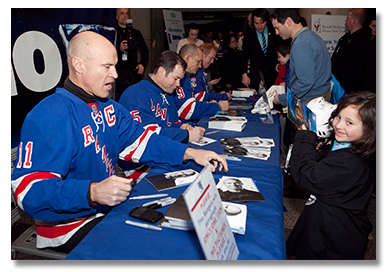 New York Rangers Legends signed autographs for supporters and their families at the event.
"There's nothing quite like being in the midst of Rangers fans - their energy and enthusiasm is so contagious and uplifting - to help kick off the year. For that reason, Skate with the Greats is one of our most significant events because of its uniqueness," said William T. Sullivan, president & CEO of Ronald McDonald® House New York. "An event of this magnitude would not be possible without the generous support of our partner organizations, RBC Capital Markets, Bloomberg, Zurich Financial Services and PwC. We are eternally grateful to these organizations and, of course, to the New York Rangers who are the heart and soul of this event year after year."
About Ronald McDonald House New York
Ronald McDonald House® New York provides temporary housing for pediatric cancer patients and their families in a strong, supportive and caring environment which encourages and nurtures the development of child-to-child and parent-to-parent support systems. Ronald McDonald House New York is the largest facility of its type in the world. The House can accommodate 84 families, and it is filled to capacity almost every night. The House's location in Manhattan, in close proximity to 13 major cancer treatment centers, draws children and families from across the country and the world, as well as from the metropolitan New York City area. Since its founding, more than 30,000 families have stayed at Ronald McDonald House New York. For more information, visit www.rmh-newyork.org.
About the Garden of Dreams Foundation
The Garden of Dreams Foundation is a 501(c)(3) non-profit charity that works with The Madison Square Garden Company (MSG) to positively impact the lives of children facing obstacles. Through ongoing programs that use the magic of MSG - including the Knicks, the Rangers, the Liberty, MSG Entertainment, MSG Networks and Fuse - the Foundation develops strong, long-term relationships that truly change lives. Since its inception in September 2006, Garden of Dreams has created thousands of once-in-a-lifetime experiences that have brought joy and happiness to more than 215,000 children and their families, including those facing homelessness, extreme poverty, illness and foster care. For more information, visit www.GardenofDreamsFoundation.org.

About the New York Rangers Hockey Club
The Madison Square Garden Company is a fully-integrated sports, media and entertainment business. The company is comprised of three business segments: MSG Sports, MSG Media and MSG Entertainment, which are strategically aligned to work together to drive the company's overall business, which is built on a foundation of iconic venues and compelling content that the company creates, produces, presents and/or distributes through its programming networks and other media assets. MSG Sports consists of owning and operating sports franchises, including the New York Knicks (NBA), the New York Rangers (NHL), the New York Liberty (WNBA), and the Connecticut Whale (AHL). MSG Sports also features the presentation of a wide variety of live sporting events including professional boxing, college basketball, track and field and tennis, as well as MSG Action Sports, an action sports and lifestyle division. MSG Media is a leader in production and content development for multiple distribution platforms, including content originating from MSG's venues. MSG Media consists of the MSG Networks (MSG, MSG Plus, MSG HD and MSG Plus HD) regional sports networks and the Fuse Networks (Fuse and Fuse HD), a national television network dedicated to music. MSG Entertainment is one of the country's leaders in live entertainment. MSG Entertainment creates, produces and/or presents a variety of live productions, including the Radio City Christmas Spectacular featuring the Radio City Rockettes. MSG Entertainment also presents or hosts other live entertainment events such as concerts, family shows and special events in MSG's diverse collection of venues. These venues include Madison Square Garden, Radio City Music Hall, the Theater at Madison Square Garden, the Beacon Theatre, the Chicago Theatre and the Wang Theatre. More information is available at www.themadisonsquaregardencompany.com.
About RBC Capital Markets
RBC Capital Markets is the corporate and investment banking arm of the Royal Bank of Canada, the 4th largest bank in North America by market capitalization. RBC Capital Markets is a premier investment bank that provides a focused set of products, services and expertise to corporations, institutional investors and governments around the world. With over 6,500 professionals in 15 countries, we deliver our products and services to clients in over 100 countries through operations across North America, Europe and the Asia-Pacific region. For more information, please visit www.rbccm.com.
About Bloomberg L.P.
Bloomberg, the global business and financial information and news leader, gives influential decision makers a critical edge by connecting them to a dynamic network of information, people and ideas. The company's strength - delivering data, news and analytics through innovative technology, quickly and accurately - is at the core of the Bloomberg Professional service, which provides real time financial information to more than 310,000 subscribers globally.

- 30 -