Thousands of Canadians Helped Celebrate Canadian Athletes during the RBC Hometown Champions Cheer Tour

Cheer videos can still be posted on Facebook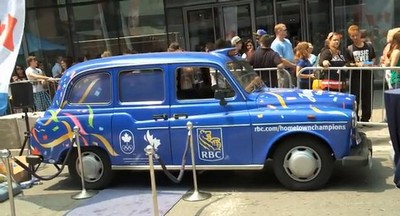 TORONTO, August 14, 2012 - With the 2012 Olympic Games having just ended and the Paralympic Games about to start, thousands of Canadians have celebrated Canadian athletes through the RBC Hometown Champions Cheer Tour.
From June 28 to August 12, the RBC Hometown Champions Cheer Tour had three London-style taxi cabs travel simultaneously around Western, Central and Eastern Canada, stopping in communities and encouraging Canadians to show their love and support for our Olympic and Paralympic athletes. Fans had the opportunity to sit inside the taxi cabs and record their cheers and personal messages of support for their Olympic and Paralympic hometown champions and the entire Canadian team. Cheers were uploaded to the RBC Hometown Champions web page - rbc.com/hometownchampions.
Highlights of the RBC Hometown Champions Cheer Tour include:
Three London-style taxi cabs travelled more than 13,000 kms (in total) across the country and visited 149 communities in10 provinces over 34 days;
More than 24,000 Canadians interacted with the cabs and our ambassadors;
Almost 3,000 cheer videos of support for Canadian athletes were created;
RBC Olympians signed autographs and engaged with the public along the tour.
"We are proud to have given Canadians the opportunity to connect as a country and celebrate our Olympic and Paralympic athletes through the RBC Hometown Champions Cheer Tour," said Andy Shibata, head, Brand Marketing at RBC. "Partnering with the Canadian Olympic Committee for more than 60 years, we have helped athletes achieve their goals and congratulate the Canadian Olympic Team on their outstanding showing in London and wish good luck to the Paralympic Team as they get set to compete."
For a montage of cheer videos, visit our YouTube Channel. To continue to celebrate and honour our Paralympic athletes competing in the coming weeks, Canadians can post their cheer videos on the RBC Facebook page - rbc.com/hometownchampions.
RBC and Amateur Sport
As Canada's longest-standing supporter of the Canadian Olympic Team since 1947, RBC proudly continues its sponsorship through to London 2012, Sochi 2014 and Rio 2016. RBC also sponsored the Vancouver 2010 Olympic and Paralympic Winter Games and the 2010 Olympic and Paralympic Torch Relays. Supporting amateur sport, from grassroots programs in local communities to national sport associations, RBC helps in the development of amateur athletes who compete at home and abroad. In addition, we provide elite-level athletes with flexible career experiences to compliment their training regimes through the RBC Olympians program. RBC is a premier sponsor of Hockey Canada, Athletics Canada, Volleyball Canada and the Canadian Paralympic Committee. Visit rbc.com/community.
- 30 -
For more information, please contact:

Caitlin Holwell, RBC Media Relations, (416) 974-2685, caitlin.holwell@rbc.com

Emily Abrahams, Weber Shandwick, (416) 642-7948, eabrahams@webershandwick.com