For Love or Money - RBC Poll Finds Women are Motivated by Life Events, Men are Driven by Measuring Progress
Confidence in online investing is another divergent factor between the sexes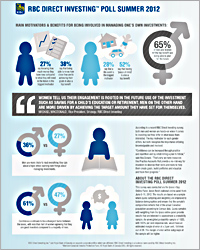 TORONTO, August 9, 2012 - Both men and women are hands-on when it comes to investing, but they differ in what keeps them interested. According to a recent RBC Direct Investing survey, the largest motivator driving women to become more involved in managing their investments is a life event (28 per cent). For men, on the other hand, it's knowing how much money they have now compared to what they will need in the future (27 per cent).
"Women tell us their engagement is rooted in the future use of the investment, such as saving for a child's education or retirement, while men are more driven by achieving the target amount they have set for themselves," said Michael MacDonald, vice-president, Strategy, RBC Direct Investing. "The key motivator for each gender differs, but both men and women recognize the importance of being knowledgeable and involved."
Equally, men and women (64 and 65 per cent respectively) say being able to plan for their future is a top benefit of being knowledgeable and involved in managing their investments. Women are more likely (52 per cent) to say that having peace of mind is another top benefit; men are more likely (38 per cent) to say that it allows them to know how close they are to achieving their goals.

The RBC poll also found that confidence continues to be a divergent factor between the sexes, with less than half (47 per cent) of women agreeing that they are good investors compared to a majority (61 per cent) of men.
"Confidence can be increased through practice and repetition and by establishing a plan to follow," added MacDonald. "That's why we have resources like Practice Accounts, that provide a no-risk way for investors to develop their skills, as well as tools to help them create goals, build portfolios and visualize and track their progress."
Highlights of additional gender investing differences
Of those who make investment decisions on their own, women (71 per cent) are more likely than men (65 per cent) to say that being knowledgeable about their investments allows them to plan for the future
Men are more likely to read everything they can about a topic when learning new things (36 per cent compared to 27 per cent of women)

About RBC Direct Investing
One of Canada's leading online brokerages, RBC Direct Investing is a wholly owned subsidiary of Royal Bank of Canada. RBC Direct Investing provides innovative tools and resources for investors who prefer to manage all or a portion of their investment portfolio. Clients have online access to their investments 24/7 and can choose from a broad range of investment products, including stocks, bonds, exchange-traded funds, GICs, and thousands of mutual funds. Online "Practice Accounts" and "Rep-Assisted" screen sharing, together with comprehensive learning resources, help give new online investors the confidence they need to get started. For new as well as seasoned investors who wish to speak to someone directly, RBC Direct Investing has an award winning team of investment services representatives available to respond to clients' customer service, account and trading inquiries. RBC Direct Investing is a member of The Canadian Investor Protection Fund. For more information, please visit rbcdirectinvesting.com.
- 30 -
For more information, please contact:

Kate Yurincich, RBC, 416-974-1031, kate.yurincich@rbc.com
Jill Quinn, RBC, 416 313-8121, jill.quinn@rbc.com

back to top