Canada's Housing Affordability Wanes in the First Quarter of 2012: RBC Economics
Expected interest rate increases will pose further affordability challenges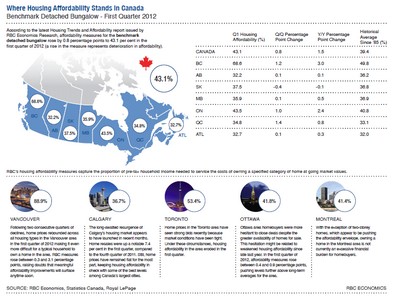 TORONTO, May 29, 2012— Following two consecutive quarters of encouraging improvements, Canada's housing affordability deteriorated slightly in the early months of 2012, according to the latest Housing Trends and Affordability Report released today by RBC Economics Research. Vigorous homebuyer demand pushed home prices higher in the first quarter, driving the cost of owning a home in Canada modestly upwards.
"It became a little tougher on household budgets to carry the costs of owning a home at market prices at the start of this year," said Craig Wright, senior vice-president and chief economist, RBC. "Strong buyer demand was a principal driver of the modest rise in homeownership costs. While the deterioration in affordability was felt to varying degrees across the country, it was mild in most cases."
Looking ahead, RBC expects further challenges on the affordability front across Canada once the Bank of Canada begins raising interest rates in the fourth quarter of 2012 and assuming the European economy stays on the rails.
"Exceptionally low interest rates have been the key force in keeping affordability from hitting dangerous levels in Canada in recent years," added Wright. "Affordability headwinds are likely to increase next year, as interest rates make their way towards more normal levels. We anticipate that the central bank will begin hiking rates gradually, however, which should help mitigate any widespread negative impact on the housing market. A gradual pace of increases will allow income growth to provide some offset."
The RBC housing affordability measure captures the proportion of pre-tax household income that would be needed to service the costs of owning a specified category of home at going market values. During the first quarter of 2012, measures at the national level rose between 0.3 and 0.8 percentage points for the three housing categories tracked by RBC (a rise in the measure represents deterioration in affordability). Measures stand slightly above historical averages and Canada's housing market remain fairly balanced, indicating that only modest stress is being exerted on housing demand at this point.
Where housing affordability stands in Canada:
Stark regional divergences in affordability witnessed last year carried through to the first quarter of 2012. British Columbia's housing and, more expressly, the Vancouver-area market are situated at the weaker end of the affordability spectrum, while housing markets in Alberta and Atlantic Canada remain at the more affordable end. Local housing markets in Ontario had slightly less attractive affordability in comparison to the national average, while markets in Saskatchewan, Manitoba and Quebec were slightly more attractive.
RBC's housing affordability measure for the benchmark detached bungalow in Canada's largest cities is as follows: Vancouver 88.9 per cent (up 3.1 percentage points from the previous quarter), Toronto 53.4 per cent (up 1.2 percentage points), Ottawa 41.8 per cent (up 0.9 percentage points), Montreal 41.4 per cent (up 1.2 percentage points), Calgary 36.7 per cent (unchanged) and Edmonton 32.4 per cent (down 0.4 percentage points).
The RBC housing affordability measure, which has been compiled since 1985, is based on the costs of owning a detached bungalow (a reasonable property benchmark for the housing market in Canada) at market value. Alternative housing types are also presented, including a standard two-storey home and a standard condominium apartment. The higher the reading, the more difficult it is to afford a home at market values. For example, an affordability reading of 50 per cent means that homeownership costs, including mortgage payments, utilities and property taxes, would take up 50 per cent of a typical household's monthly pre-tax income.
Highlights from across Canada:
The full RBC Housing Trends and Affordability report is available online, as of 8 a.m. ET today, at www.rbc.com/economics/market/.
- 30 -