RBC and Supply Chain & Logistics Association Canada Report Urges Transportation and Logistics Companies to Embrace Environmental Sustainability
TORONTO, September 27, 2011 — A new report released today by RBC and Supply Chain & Logistics Association Canada (SCL) identifies environmental sustainability as a key issue and opportunity for Canada's transportation and logistics companies.
The logistics sector is an increasingly significant contributor to the Canadian economy, yet it is also a high consumer of fossil fuels. With over 50 per cent of an average corporation's carbon dioxide emissions occurring within their supply chain, clients and consumers are calling for more transparency and accountability from the logistics sector, as well as concrete strategies to minimize environmental impact.
"In partnership with SCL, we hope to bring attention to the business opportunities and cost-savings that can be achieved by making environmental sustainability a business priority," said Andrea Bolger, head, Business Financial Services, RBC. "RBC is committed to helping Canadian logistics companies with financial advice and solutions as they invest in cleaner, greener supply chain management."
The joint report on Business & the Environment entitled, FOCUS FORWARD: Enhancing Supply Chain Value with Green Logistics & Transportation, highlights the top five environmental sustainability issues facing the Canadian logistics sector and how distribution and transportation companies can enhance competitiveness in an increasingly complex global business environment.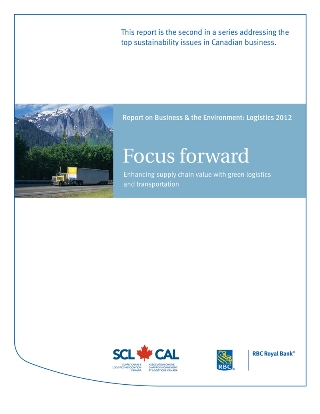 Focus Forward: Enhancing supply chain value with green logistics and transportation, a joint report from RBC and Supply Chain Logistics Canada that highlights the top environmental sustainability issues facing the Canadian logistics sector.
The report covers:
How environmental sustainability has become a critical strategic planning issue for logistics and transportation companies as international trade evolves and supply chains become more global.


The top five environmental challenges that CEO's in the logistics sector need to be aware of, which are:

Weather: Planning for uncertainty
Energy: Powering distribution
Emissions: Improving air quality through cleaner transport
Water: Protecting an essential resource
Waste: Getting to zero



Case studies that showcase best-in-class examples from companies who are embracing the environmental sustainability challenge and how going green is helping them meet supplier guidelines and attracting new customers.
"Best-in-class business strategies must include the role of environmental and social sustainability in enhancing competitiveness," said Bob Armstrong, president, SCL. "This report clearly demonstrates the business case for going green by showcasing how other companies are successfully integrating environmental thinking into all aspects of the supply chain."
This report is designed to demonstrate the value of integrating environmental sustainability into all aspects of supply chain and logistics management, including distribution and transportation. It is the second in a series aimed at helping leaders of Canadian organizations better understand the risks and benefit from the business opportunities presented by the environmental sustainability challenge.
FOCUS FORWARD: Enhancing Supply Chain Value with Green Logistics & Transportation will be available on the RBC Commercial Advice Centre at www.rbc.com/business-advice and through SCL at www.sclcanada.org.
About SCL
Supply Chain & Logistics Association Canada (SCL) acts as a significant link within the supply chain community, both nationally and internationally, providing supply chain professionals and their companies access to up-to-date information and resources regarding supply chain management, best-in-class business practices, benchmarking, research and market intelligence.

SCL represents a broad spectrum of manufacturers, retailers and service providers who view supply chain management as a critical driver of competitive differentiation, increasing shareholder value.

SCL brings supply chain professionals together in unique forums to learn from each other and industry experts at the regional level through our chapters, as well as through national programs. It is this peer-to-peer education and our members' passion for supply chain management that sets SCL apart from other organizations and gives business value back to our members.
- 30 -
For more information, please contact:

Margie McNeil, RBC, 905-606-1425, margie.mcneil@rbc.com
Angela Gordon, RBC, 905-816-5650, angela.gordon@rbc.com
Bob Armstrong, SCL, 905- 513-7300, barmstrong@sclcanada.org