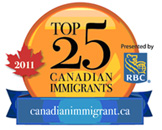 Nominations now open for Top 25 Canadian Immigrants of 2011

National award celebrates achievements of Canadian newcomers
TORONTO, November 9, 2010 — Canadian Immigrant magazine and RBC today announced the open call nominations for the "Top 25 Canadian Immigrants of 2011." The third annual awards program seeks to celebrate the stories and achievements of outstanding Canadian immigrants from coast to coast.
"It's exciting to embark on our third annual Top 25 Canadian Immigrants awards program. The winners from last year's awards were nothing short of inspirational, and we know there are so many more immigrants in Canada who deserve recognition for giving back to their adopted country," said Margaret Jetelina, editor of Canadian Immigrant.
This national people's choice award is unique in that it allows Canadians to vote directly for individuals from all walks of life who have made a difference since their arrival in Canada. More than 20,000 votes from across Canada were cast in the second annual awards program in 2010.
"Voting for the top Canadian immigrant presents an opportunity to recognize role models who have encouraged and motivated others and applaud those who have made significant contributions to this country," said Camon Mak, director of RBC Multicultural Markets. "We hope the winners' stories inspire other immigrants to make their dreams a reality."
A nominee can be someone who has moved to Canada and, since immigrating, has contributed to the diversity and success of this country. Achievements can be either professional or personal. Nominees must hold landed immigrant (Permanent Resident) or citizen status in Canada. This program is also proudly supported by the Toronto Star.
Nominations can be made by visiting canadianimmigrant.ca/top25 until January 28, 2011. A distinguished panel of judges will review all nominees and present a list of finalists which will be profiled online in February, when all Canadians can vote for their favourite nominees. The winners will be announced in May 2011 and will be recognized in Canadian Immigrant magazine. They will also receive a commemorative plaque and a $500 donation from RBC toward a registered Canadian charity of their choice.
About RBC
Royal Bank of Canada (RY on TSX and NYSE) and its subsidiaries operate under the master brand name RBC. We are Canada's largest bank as measured by assets and market capitalization, and among the largest banks in the world, based on market capitalization. We are one of North America's leading diversified financial services companies, and provide personal and commercial banking, wealth management services, insurance, corporate and investment banking and transaction processing services on a global basis. We employ approximately 78,000 full- and part-time employees who serve close to 18 million personal, business, public sector and institutional clients through offices in Canada, the U.S. and 51 other countries. For more information, please visit rbc.com.

- 30 -
For more information, contact:

Canadian Immigrant
Sanjay Agnihotri, 416-596-4393, sagnihotri@starmediagroup.ca
RBC
Jill Quinn, 416-313-8121, jill.quinn@rbc.com

back to top