Buying Your First Home in Canada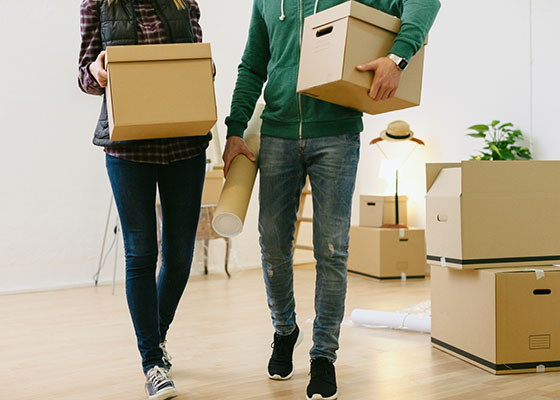 For many Canadians, buying a home is the single largest investment they will ever make.
And given the costs of home ownership in Canada it's common for first-time homebuyers to need a mortgage – a long-term loan from a bank that uses the home as security. To make it easier to achieve your home ownership goal we have mortgage options specifically designed for newcomers to Canada. If you have lived in Canada for less than five years, you can take advantage of these great benefits.
It's never too early to start planning for your goal of home ownership.
1. Decide what you can afford
Before you start looking for a home you should know how much your mortgage payments will be – what you can afford. Our easy-to-use mortgage calculators

can provide an estimate. This will help you set a realistic price range for the home so you can balance your home ownership dreams with your lifestyle needs.
There's more to buying a home than just the purchase price. You will also need to consider and budget for:
Closing costs such as a home inspection, legal fees and land transfer taxes
Property taxes
Property insurance
Mortgage insurance (if needed)
Heating, hydro, water and other services (e.g. TV, internet)
Home maintenance and repairs
2. Build your savings for your down payment
In Canada, you need a down payment of at least 5%1 to purchase a home. However, making as large a down payment as possible could help lower your regular mortgage payments. To save for your down payment, you can:
Set up an automatic savings plan
Save in a Tax-Free Savings Account (TFSA), where you won't pay tax on any income earned and you have the flexibility to withdraw your money at any time
Take advantage of the RRSP Home Buyer's Plan
Ask an advisor for more information on TFSAs and RRSPs.
3. Understand your mortgage options
There's a wide range of mortgage solutions and competitive rates to suit your budget, circumstances and goals. Besides the actual type of mortgage you select, there are other important characteristics of a mortgage that determine exactly how much you will pay – both monthly and over the life of the mortgage. For example, will your mortgage have a fixed or variable rate? Is an open or closed mortgage best for you as a first-time buyer?
An RBC mortgage specialist can help you understand all your mortgage choices, as well as:
Help you understand the process, review your mortgage options and select the mortgage that best meets your needs
Provide you with a mortgage pre-approval so you know how much you qualify for and what your maximum offer can be
Advise you on how to build up your down payment (if applicable) and if there are any special savings/rebates that may apply to you as a first-time home buyer in Canada
Meet with you at a time and location that is convenient for you and your family
4. Get a mortgage pre-approval
A pre-approved mortgage is a commitment by the bank (subject to conditions such as a property valuation) to loan you the money for your home.
A mortgage pre-approval should be your first step when you're ready to look for a home. There's no obligation or cost, you will know how much you can afford to borrow and what your interest rate is. Mortgage pre-approvals are typically guaranteed for 120 days2. With a mortgage pre-approval you'll be in a better position to make your offer when you find the home you want.
5. Ready to buy?
Most Canadians finance the purchase of a home in two steps:
They make an initial down payment on the house using money they've saved.
They borrow funds from a lender (such as a bank), then make regular payments to pay off the mortgage.
Checklist for buying your first home
Decide how much you can afford.
Consider all the costs of home ownership.
Build your savings for your down payment.
Understand your mortgage options.
Get a mortgage pre-approval.
RBC Royal Bank® mortgage options for newcomers to Canada
Whether you are just starting to save for a down payment or you're ready to buy your home now, the experts at RBC Royal Bank can make it easier to help you achieve your home ownership goals. If you have lived in Canada for less than five years, you can take advantage of these great benefits:
No Canadian credit history required3
Qualification process designed for Newcomers to Canada
Amortizations available for up to 30 years4
Firm, fast credit approvals and a 120 day rate guarantee2
Speak to an RBC Mortgage Specialist today
Residential mortgages and home equity financing products are offered by Royal Bank of Canada and are subject to its standard lending criteria. Some additional conditions apply. Offer may be changed or withdrawn at any time, without notice. Not available in combination with any other rate discounts, offers or promotions.
1
Down payment of less than 20% of the value of a property requires a maximum 25-year amortization and will not qualify for a 30-year amortization. In addition, if your down payment is less than 20%, you must pay a mortgage default insurance premium charged by a mortgage insurer. This insurance protects the financial institution if you ever default on your mortgage.
2
Terms and conditions apply. If you qualify for a mortgage pre-approval and rate guarantee, your interest rate for the selected mortgage type and term will be guaranteed for up to 120 days from the application date. If the mortgage is not funded within the 120-day period, the interest rate guarantee will expire.
3
You may be eligible for an RBC Royal Bank residential mortgage or mortgage within an RBC Homeline Plan®, even if you have no or thin Canadian credit history, provided you meet all of the eligibility and credit criteria of Royal Bank of Canada and do not have adverse credit bureau information. Available to permanent residents and foreign workers who have been in Canada less than five years. Temporary residents may also apply. To take advantage of these offers, you must show proof of entry into Canada and provide supporting documents such as a passport, and landing papers (work permit/visa) or Canadian permanent resident card. Additional documents may be required to validate down payment funds sourced from another country.
4
Available for Conventional Newcomer Equity and Standard Programs. Default insured programs are limited to 25 years.
®/™
Trademark(s) of Royal Bank of Canada. RBC and Royal Bank are registered trademarks of Royal Bank of Canada.