Investing for Business Owners/Entrepreneurs New to Canada
Investing in My Future & My Business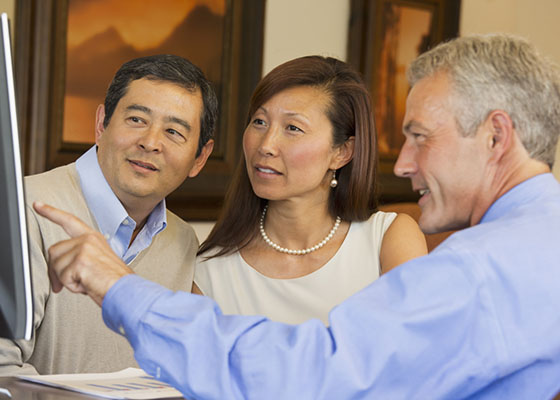 Whether you are just starting your business or trying to grow it, it's important to plan a secure financial future for your business and yourself.
Understanding the many investment choices available in Canada and how to take advantage of the plans that provide personal tax benefits may be overwhelming for you. We're here to help with solutions to meet your needs.
Start Investing for Life in Canada
Or call 1-800-769-2511 for service in over 200 languages.
Secure Investments that Guarantee to Preserve Your Principal
Guaranteed Investment Certificates (GICs) are secure investments that protect your principal investment. Choose from a range of GICs to suit your needs, including:
Redeemable and non-redeemable options
Competitive rates and flexible terms
Guaranteed returns or returns linked to the prime interest rate or stock market.
Ready to Buy a GIC or Need Advice?
Or call 1-800-769-2511 for service in over 200 languages.
Grow Your Money Faster
A Tax-Free Savings Account (TFSA) can be a great way to save for both medium – and longer-term goals. Any investment income earned in this plan is tax-free29. This means you can withdraw your funds at any time30 without paying tax. Pus, you can open this account soon after you arrive in Canada as long as you meet the eligibility requirements. To be eligible, you:
Must be a Canadian resident who has reached the age of majority in the province where you live
Must have a Social Insurance Number
You can contribute up to the annual contribution limit of $5,50048.
Take Action
Or call 1-800-769-2511 for service in over 200 languages.
Save For Your Retirement
By living and working in Canada, you may be eligible for government benefits when you retire. However, these benefits may not be enough to support the retirement lifestyle you want.
A Registered Retirement Savings Plan (RRSP) can help you set money aside now, while you're still working, to use later to supplement your income when you retire. And the sooner you start, the more time your money has to grow.
The benefits of saving in an RRSP:
Contributions are tax-deductible
Growth is tax deferred
Ready to Start Investing?
Or call 1-800-769-2511 for service in over 200 languages.
Mutual funds: Professionally Managed Investments
Mutual funds pool the contributions of many investors into an investment fund managed by professional fund managers. This approach offers a number of benefits, including:
Access to financial markets
Low minimum investment
Diversification
Professional investment management
We offer a wide range of funds to choose from, including funds that focus on Canadian and international stocks, bonds and money market instruments, from very conservative to aggressive growth, designed to meet your investment needs and goals. Be sure to read the applicable Fund Facts, which outlines the fund's objectives, management approach and any associated costs and fees. Talk to an RBC advisor today.
Do You Have Sophisticated or International Investment Needs?
If you have more specific investing needs, RBC Dominion Securities may be the right financial partner for you.
Your dedicated RBC Dominion Securities advisor can create a personalized investment portfolio drawing on a complete range of investment choices worldwide.
RBC Dominion Securities also provides customized wealth management solutions encompassing financial, retirement and estate planning.
Prefer To Manage Your Own Investments?
Whether you're new to investing, an experienced investor or something in between, RBC Direct Investing has what you need to invest with confidence, including:
A wide range of investments, such as stocks, bonds, exchange-traded funds (ETFs), mutual funds and GICs that can be held in a variety of registered and non-registered accounts.
Low-cost trades for every investor. $9.95 flat33 equity trades for all clients — no minimum account balance or trading activity required. And $6.95 flat equity trades when you make 150 or more trades per quarter.
Find inspiration and new ideas in the Community34, where you can connect with other investors and exchange ideas about potential investments.
Practice Accounts. Try out online investing without risking any of your own money. The Practice Account is fully integrated with the RBC Direct Investing site, so you get the same online experience as with a real account.