Business Credit Cards and Loans in Canada
Get Your First Canadian Business Credit Card
Separate your business expenses from your personal ones with an RBC® business credit card. This will save you time and money and will help you better manage your business cash flow. We can help you choose the business credit card that's right for your business. Some of our most popular ones are:
RBC Visa Business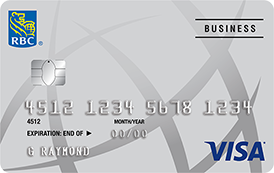 Flexible and affordable with a low annual fee
RBC Visa CreditLine for Small Business™
No annual fee
Earn 1 RBC Rewards point for each $2 CDN you spend on your card23
Low competitive interest rate
Do You Have Other Borrowing Needs for Your Business?
To get your new business started, you may need to purchase or lease property, equipment or furniture. Or perhaps you'll need some help managing your cash flow. We know the questions to ask to help you decide whether a line of credit, term loan or lease solution is right for your business.
Talk to an RBC business advisor to learn more about credit and borrowing for your business.
Call 1-800-769-2520 for service in over 200 languages.