Banking for Business Owners/Entrepreneurs New to Canada
Make Every Dollar Count for Your Small Business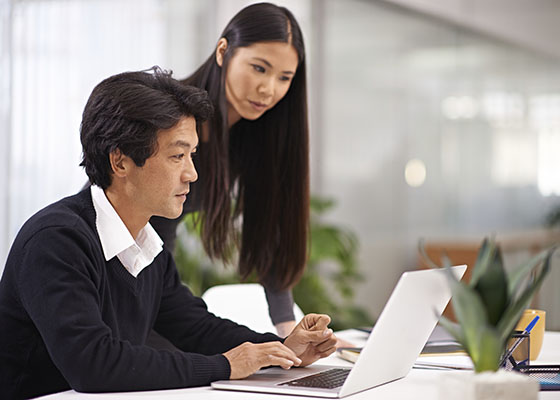 The $6 Small Business® banking account39 is ideal for start-up and growing businesses that typically have a variable number of monthly transactions. It provides built-in discounts when your transaction volumes grow and additional savings when you bank online or use our ATM network – helping your dollars go farther.
Get $50 when you open any qualifying business deposit account13
No minimum balance required
The $6 monthly fee acts as a credit towards service and transaction fees and charges, and can cover up to 7 transactions39
Plus get convenient access to Canada's largest combined network of branches and ATMs
24/7 service and support from dedicated small business advisors
Access to RBC Royal Bank Online Banking and Telephone Banking14
Get Started Today
Speak to a business advisor
Call 1-800-769-2520 for service in over 200 languages.
Manage Your Business Online and Save Time
Whether you want to learn about flexible banking choices, convenient payment options or quick and easy access to account information we can help. With RBC® Online Banking for business, you can:
Keep track of your entire cash position (including access to account balances), pay employees and suppliers, transfer funds and account statements
Save time with a single sign-in to RBC Online Banking – You can view and make transactions in both your business and personal accounts. It's one-stop banking at its best
Download our RBC Mobile Banking app for quick and easy on-the-go banking14
Talk to an RBC business advisor to discover how you can start saving time today.
Call 1-800-769-2520 for service in over 200 languages.
Send Money Overseas
RBC International Money Transfer allows you to send money internationally anytime, with total peace of mind12 to your family or friends overseas.
You can send money to more than 120 countries, including the US, anytime, from anywhere you have internet access12
All you need is an RBC Royal Bank chequing or savings account
Funds are available within 2 to 5 business days
It's secure, convenient and fast
International Foreign Exchange
Do you need to convert your currency?
Enjoy a preferred rate on both business and personal foreign exchange transactions in-branch for the first 12 months9 when you join RBC.
Try our Foreign Exchange Currency Converter for our public exchange rates.