When war was declared, many Royal Bank employees immediately enlisted. At first they were granted a leave of absence with an allowance and the understanding that their services would be re-engaged on their return from war. After September 1915, staff members were required to resign with a guarantee of a job on their return if their services could be used.
Continued enlistments, coupled with continuously expanding business, caused progressively acute staffing issues and Royal Bank found it necessary to engage women as banking clerks - with the understanding that they would be replaced by returning soldiers. This was a fundamental change for the bank as women had previously only been engaged as stenographers and filing clerks.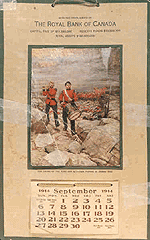 Royal Bank's 1914 calendar featured a reproduction of the painting, "The Drums of the Fore and Aft," by Herbert Stitt

A total of 1,495 Royal Bank staff members enlisted for active service. Of these, 186 were killed in action or died in hospital and five were missing in action. After the war, 786 employees were reinstated, while 516 elected not to return to the bank. One staff member who elected to return to the bank was distinguished Canadian poet Francis Sherman, who enlisted in 1915 and returned to the bank in 1919.
In 1920, Royal Bank published a Roll of Honour commemorating those staff members who died or were missing in action, and in 1928 the bank erected large memorial tablets in the newly constructed head office building at 360 St. James Street, Montreal.
Click image below to find out more
Read More

back to top