London West End Branch
In May 1928, Royal Bank opened its second London branch, just off Trafalgar Square at 2 Cockspur Street on the ground floor of the Sun Life Building, directly adjacent to Canada House, in what one observer described as "the most commanding site in London." West End branch was opened principally to serve the bank's overseas clients, for whom its location close to theatres and shops was more convenient than the bank's main or "City" branch, established in the city's east-end financial district in September 1910.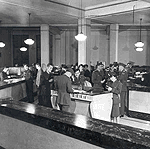 Canadian service personnel meet friends and conduct business at Royal Bank's West End London, England branch in 1943

Between the wars, West End branch became an extremely popular meeting place for Canadians abroad. As the Second World War loomed, branch staff volunteered for Civil Defence training and spent much of their time advising and assisting anxious Canadian tourists and visiting businessmen seeking transportation home. During the Second World War, the Canadian Army Headquarters was located directly across the street and the branch was a hub of banking and social activity for Canadian servicemen and women.
Remarkably, the branch survived the intense bombing campaign of the Blitz of London in 1940 without suffering major structural damage, although, as a staff member has written, the branch's plate glass windows were blown out so frequently that they were ultimately replaced for the duration of the war with "wooden windows."
Click image below to find out more
Read More

back to top