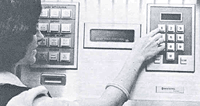 As early generation automated banking machines, Bankettes provided 24-hour banking for withdrawals, deposits, transfers from one account to another, bill payments and cash advances on Chargex (Visa *) accounts.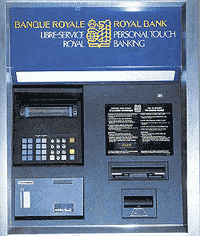 Soon after the 1980 launch, Royal Bank installed 11 more Personal Touch Banking machines in Alberta and 20 in British Columbia. By 1983 there were more than 600 machines in operation across the country - the largest automated banking machine network in Canada and one of the largest in the world.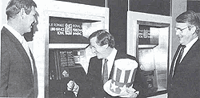 Royal Bank client cardholders could now obtain cash at any of the Plus System Network's 6,000 automated banking machines in the United States. In turn, clients of the 1,400 financial institutions affiliated with the Plus System in the United States could get cash from Royal Bank's 900 Personal Touch Banking (PTB) machines across Canada. Pictured here, Quebec entertainer Jean Lapointe gets cash from a Montreal PTB machine using a card from the Southeast Bank in Miami while Royal Bank's Michael Turcotte, senior vice-president and general manager, Quebec, and Southeast Bank's vice-president Charles Lefevre look on.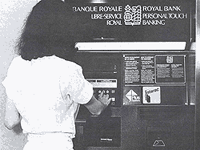 By the beginning of 1987, the Interac Association processed more transactions than any other national shared banking machine network in North America. The number of machines available to Canadians in the Interac network had also increased from 2,500 in 1985 to 4,200 by 1987.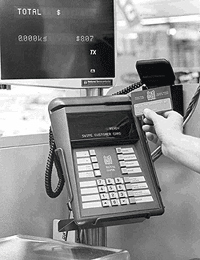 With Personal Touch Payment, Royal Bank customers were able to make payments for goods and services at participating retail outlets in London by using the same client card and personal security codes that gave them access to automated banking machines. Payments could be made from a chequing or a savings account.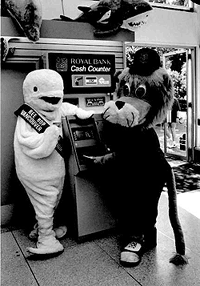 In 1992, Royal Bank's automated banking machines handled 216 million withdrawals, 55 million deposits, 10 million bill payments as well as 26 million transactions for customers of other financial institutions - 23 times more transactions as were performed 10 years earlier. During this same 10 year period, the number of in-branch transactions remained relatively stable - though 70 percent of all routine transactions were now made at banking machines. Pictured here, Leo the Lion and Bee Bop Beluga are the first to use the new Royal Bank Cash Counter at the Vancouver Aquarium, 1995.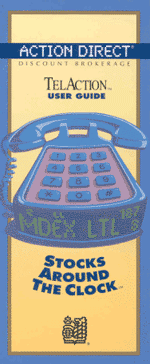 The automated telephone brokerage system provided a 24 hours a day, seven days a week toll-free service to investors permitting them to obtain stock market quotes or initiate transactions, at their convenience, without first having to talk to a broker.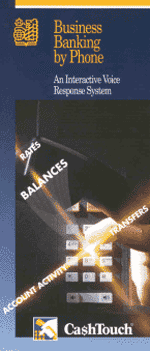 Using Interactive Voice Response (IRV) technology, Ca$hTouch is a fast and convenient way to access up to three business accounts and two loans by touch tone phone. It also provided transaction inquiry for the last five items processed through the Current Accounts; three foreign exchange rates from list of eight currencies; Canadian Prime Rate and U.S. Base Rate, and money transfers in the same currency between deposit accounts.

The Call Centre's role was to provide all the services available at a branch, except for cash dispensing. Launched in September 1994, by November of that year the service had exceeded all expectations for the number of subscribers, with 70 per cent of them opting for enhanced service.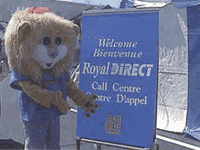 Located on a five-acre site, the centre was part of the bank's $20 million capital investment in telephone and remote banking technologies. By May 1996, there were over 540,000 customers enrolled in telephone banking making Royal Direct one of the most widely used telephone banking services in the world.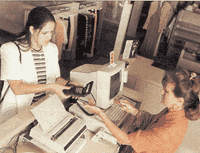 A Personal Identification Number (PIN) pad that connects directly into the retailer's cash register, the Phantom eliminates the need for a separate terminal and receipt printer to complete customer transactions, taking up much less space than the stand-alone models. Pictured here, the new device was launched in Montreal on July 24, 1995.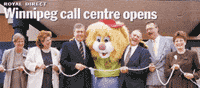 In his opening ceremonies' speech, John Cleghorn, Royal Bank chairman and chief executive officer, stated that "With its sophisticated technology, this centre is part of Royal Bank's service commitment to innovation in electronic commerce." Royal Bank invested nearly $800 million in technology applications and research in 1997.
Doing the honors with Leo are, left to right, Wendy Wynn, vice-president, Royal Direct; Susan Thompson, Mayor of Winnipeg; John Cleghorn; James Downey, Deputy Premier of Manitoba; Reg Alcock, Member of Parliament for Winnipeg South and Dennice Leahey, senior vice-president and general manager, Manitoba, Royal Bank.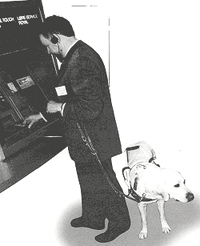 Launched at the 99 Bank Street branch in Ottawa, Ontario in October 1997, the purpose of the Audio Banking Machine is to provide easy access for customers who are blind, partially sighted, or those who prefer doing their banking via a friendly, interactive voice system. A companion orientation package, distributed upon request at no charge to clients, describes the machine's capabilities, provides instructions for operating the machine and includes a personal headset for access to the "user-friendly" voice system.