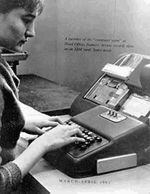 Royal Bank's IBM 1401 was one of the first non-scientific uses of a computer in Canada. It occupied an entire room and was used by the bank's head office mostly for accounting purposes such as updating branches' monthly balance sheets, safekeeping accounting, stock transfers, and payrolls. Pictured here, the key punch operator, a member of the computer team at head office, records data on an IBM card in 1962.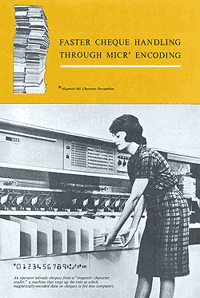 With MICR, cheques and deposit slips were personalized and encoded with clients' account numbers using characters that could be read both by the human eye and by the sorting machine. Here an operator unloads cheques from a "magnetic character reader," a machine that increased the rate at which magnetically encoded data on cheques is fed into computers.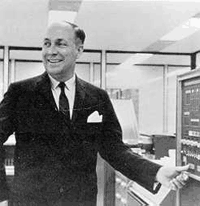 John H. Coleman, chief general manager, pressed the "start" button of an IBM 1401, signaling the official opening of Royal Bank's first computer centre. Now, routine functions were performed on a larger scale outside the branch by a special department, allowing branch staff to focus on customer service.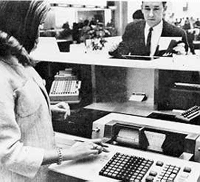 Launched in Montreal Main branch's Personal Banking Centre, the new on-line savings terminals provided highly accurate and virtually instantaneous updates of accounts and passbooks. The tasks of calculating interest and service charges on hundreds of individual accounts - as well as balancing them - were all taken over by computers.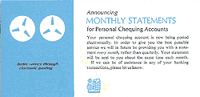 Royal Bank first started offering monthly Personal Chequing Account statements to its clients around 1966 - prior to that they were distributed quarterly. A companion ad announced to clients that "With the help of our computer, we're able to give you even better and faster service."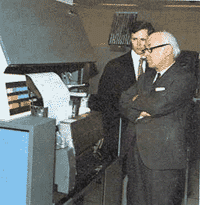 By 1977, Royal Bank's branches were serviced by six central processing centres situated in major cities across the country, as well as by nine smaller area processing centres. Pictured, opening day in 1970 of the new computer centre in Halifax, designed to better serve the financial needs of customers in the Maritimes.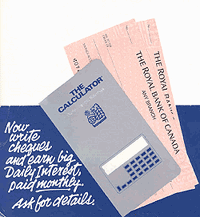 This service would have been impossible to provide without automation. The application of computers to banking processes revolutionized traditional banking services and permitted the introduction of new services that better met consumer needs.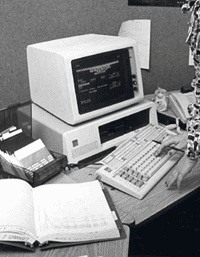 The introduction of personal computers in branches was perhaps the most significant change to occur in the 1980s. With this technology, branches moved from a paper-based to an electronic environment, taking "back office" functions out of "sales and service."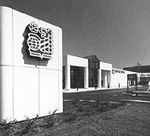 A modern laboratory, the branch served as a testing ground for new bank products and enhanced features. Customers could bank from their cars at two full-service wickets staffed 24 hours a day or at two standard automated banking machines. Mortgage and personal loans officers, available from 8 a.m. to 9 p.m., could approve most loans on the spot and often visited customers' homes or offices. Conventional automated banking machines were supplemented with prototype terminals that tested new features. There was even a machine that counted coins.