Important Information
Thank you for visiting the 2013 RBC Blue Water Roof Garden microsite. Following our
gold-medal winning success last year, Royal Bank of Canada is proud to be sponsoring the RBC Waterscape Garden at the RHS Chelsea Flower Show in May 2014.

To learn more

, please visit the RHS Chelsea Flower Show website.
You are on: Home
The RBC Blue Water Roof Garden
2013 marks the RHS Chelsea Flower Show's 100th anniversary, and the third successive year that RBC has collaborated with Nigel Dunnett and The Landscape Agency.
The RBC Blue Water Roof Garden is an exciting vision of an urban rooftop garden that integrates recreational space with innovative biodiversity and habitat features. The garden explores the potential of 'skyrise greening', bringing trees, meadows and wetlands into the heart of the densest of cities, while addressing the important issue of urban water management.
For the first time at Chelsea a full 'living roof' is exhibited, introducing features for bees and birds. A central wetland captures rainwater runoff, and a winding boardwalk leads to a dramatic 'bird hide' clad in habitat panels. Low-tech living walls that require no irrigation help enclose the space, and the whole garden is filled with flower-rich planting.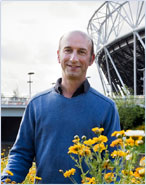 With limited space available on street level, we need to look skywards to find the green spaces that will allow people in cities to maximise their contact with nature. We have created a 'living roof' that is able to collect and filter rainwater, allowing vegetation to flourish atop skyrise buildings all year round.

- Nigel Dunnett, Lead Designer
The RBC Blue Water Roof Garden is in keeping with the goals of RBC Blue Water Project

- a wide-ranging, 10-year global commitment to help protect the world's most precious natural resource: fresh water.
You are on: Garden Features
Urban water management
Water brings gardens to life, but it is an unpredictable and precious resource that is not in unlimited supply. Filled with flower-rich planting, the RBC Blue Water Roof Garden features a central wetland that harvests and circulates rainwater runoff to irrigate the garden. A low-tech, low-irrigation living wall of drought-tolerant succulents grown in stacked terracotta units is used to separate the space from adjacent rooftops.
Skyrise greening
The RBC Blue Water Roof Garden is an exciting vision of rooftop spaces as a haven for wildlife: a place to help cool the city; a valuable tool to soak up and reduce the amount of stormwater reaching the ground, thereby helping to reduce flood risk in our dramatically changing climate; and an opportunity to form a tranquil and restorative place in the midst of a harsh urban environment.
Biodiversity
Almost every aspect of the garden's design is about supporting wildlife and biodiversity. The building structure is a complete habitat in itself, while the usual rooftop 'furniture' of vents, chimneys and units are used to create habitat sculptures to attract various species of insects and invertebrates. The planting is in Nigel Dunnett's trademark naturalistic style, and the materials and choice of flowers – many of which originate from RBC's native Canada – have been carefully selected to attract and foster local wildlife.
You are on: Design Team
Nigel Dunnett
Nigel Dunnett is Professor of Planting Design and Vegetation Technology at the University of Sheffield, UK. He has pioneered the introduction of green roof and rain garden ideas in the UK through his books, and acts widely as a consultant on planting and garden design, including principal horticultural consultant for the London 2012 Olympic Park. Working in conjunction with a landscape architecture practice, The Landscape Agency, he has collaborated with Royal Bank of Canada to design and deliver a number of projects, including gardens at the RHS Chelsea Flower Show, that bring the principles of 'water sensitive design' to a wide public audience.
The Landscape Agency
Established in 1998, The Landscape Agency has built up an award-winning team, and a highly successful reputation, in delivering projects relating to landscape design, planning and management. Their work ranges from landscape master planning for sustainable developments to rejuvenating historic gardens. From their offices, they deliver projects across the UK and worldwide.
You are on: Plant Highlights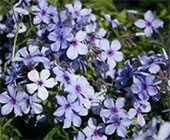 Shade zone
Phlox divaricata 'Clouds of Perfume'
Woodland Phlox. A slow spreading plant that is covered with lilac flowers in spring that scent the air around. Ideal for woodland gardens.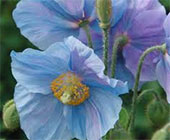 Wetland edges
Meconopis 'Lingholm'
Blue-flowered Himalayan Poppy. A fantastic form of the Himalayan Poppy, with sky blue flowers held on upright stems. Needs moist, humus-rich soil.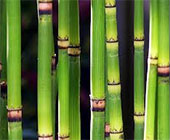 Water plants
Equisetum japonicum
Barred Horsetail. Dramatic, upright stems with attractive black rings. Very striking when rising through water.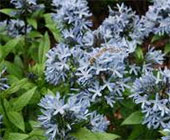 Sun zone
Amsonia tabernaemontana
Prairie Bluestar. Starry pale blue flowers cover the plants in early summer. The attractive narrow leaves turn bright orange in autumn.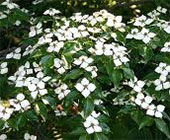 Trees and shrubs
Cornus kousa var. chinensis
White Flowering Dogwood. A fantastic small tree, with white flowers (bracts) in summer, strawberry-like fruits in a good summer, and a nice autumn leaf colour.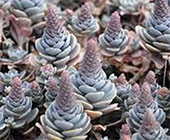 Living wall
Orostachys 'Chinese Hat'
Very unusual alpine succulent, with very tightly clustered rosettes of leaves, in a curious pyramidal form.
You are on: RBC @ Chelsea
2012: The RBC Blue Water Garden
Silver-Gilt Award
The RBC Blue Water Garden exhibited at the 2012 RHS Chelsea Flower Show aimed to showcase artful rainwater management. It was the first RHS Chelsea Flower Show garden to incorporate bioswales as a central feature – these linear structures channel and store rainwater, allowing it to circulate through the garden visibly. The dramatic, colourful and naturalistic planting drew on Nigel Dunnett's experience as lead horticultural and planning design consultant for the London 2012 Olympic Park. The garden's overall colour scheme and pavilion were inspired by the landscape and architecture of the Puglia region, Italy.
Following the 2012 Show, the garden was donated to London Wildlife Trust's Natural Estates project. It is currently being relocated to the Thamesmead Estate in Greenwich, South-East London, where it will become a community garden as part of the London Wildlife Trust's Natural Estates project.
2011: RBC New Wild Garden
Silver-Gilt Award
The RBC New Wild Garden was RHS Chelsea's first full-scale "rain garden", designed to capture and use every single drop of rain that falls on it. It brought together two major themes in British gardening in the last 100 years: the Arts and Crafts ideal – celebrating the artistic and painterly use of plants, combined with high quality and traditional craftsmanship, local materials and strong sense of place – and the wild garden – celebrating the beauty of nature, and the naturalistic use of garden plants.
The RBC New Wild Garden took the ideas of the early nature conservationists – who advocated the principles of sustainable gardening – and applied them to a contemporary urban setting, using modern recycled materials, knowledge and technology. A major feature of the garden was an office space – built from a former shipping container with a green roof and habitat walls.
After the 2011 Show, the garden was relocated and remodelled at the Slimbridge Wetland Centre in Gloucestershire as the RBC Rain Garden. There, it remains as a permanent attraction allowing visitors to gain tips to take home on how to garden sustainably.
You are on: Education Centre
Nigel Dunnett shares his top three tips for conserving rainwater in your own garden, as illustrated in the RBC Rain Garden at the WWT's London Wetland Centre.