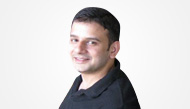 Rahul Sharma
Project Manager, RBC Capital Markets
RBC program: Summer MBA Intern
Education: BSc Mathematics, Garhwal University; MCA, Maharshi Dayanand University; MBA, Rotman School of Management, University of Toronto
Job specs: I manage the European Markets Infrastructure Regulation (EMIR) derivative reform project. My role entails end-to-end delivery of trade reporting regulatory rules for Interest Rates, Credit, FX, Commodities, and Equities issued by European regulators in response to G20 Pittsburgh commitments. The project mandates collection and maintenance of data related to swap transactions, which will be directly and electronically available to regulators. I work with front office, operations, operations engineering, compliance, legal and IT to ensure that we are in compliance with regulations.
My RBC experience: I've been given significant opportunities early in my career and I truly believe I've learned a lot more in the past year working at RBC than in my previous tenure. The organization is hungry for talent, there is a huge appetite for change, people are valued and leaders care about winning together. I also value RBC's open culture complemented with very experienced people, where talented people help each other to achieve superior performance.
Advice for students: Three pieces of advice.
1. Research well before accepting an offer. It is very hard to resist a lucrative offer but consider your long term goals rather than short term benefits.
2. Try to know your target organizations by networking. It is unbelievable how much insight you can get just by talking to people.
3. Continuously improve your skills, practice and prepare.