RBC Aboriginal Summer Internship Program (ASIP)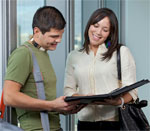 In our three-year national summer internship program, you'll experience the challenges and rewards of working in the financial services industry and gain first hand exposure to a variety of career options. You will get a head start to a full-time career as a financial professional, and we'll support you as you help to build your community by leveraging the skills you develop at RBC.
How it works
Our program includes coaching and mentoring to help set you up for success. You'll participate in comprehensive training for the Client Service Representative and Account Manager roles, gain hands-on experience providing superior service to valued RBC clients, and receive coaching from your manager, your mentor, and members of your regional Aboriginal Employee Resource Group, the RBC Royal Eagles.
Interns who excel by the end of the third summer will receive advance offers for full-time positions to start after graduation. Placements are available across Canada.
Who is eligible
Students wishing to apply must be Status Indian, Non-Status Indian, Inuit or Métis, and enrolled in any two year or longer post-secondary program such as Business Administration, Social Science or Accounting and Finance.
How to Apply
To apply to this program, please visit www.rbc.com/careers

to submit your cover letter and resume. Select "Search for Jobs" and search by key words "Aboriginal" and "summer."
For more information on our Aboriginal Recruitment Programs visit www.rbc.com/careers.

If you have any questions with regards to this position or if you cannot find a posting for your region, please contact us at aboriginaltalent@rbc.com.