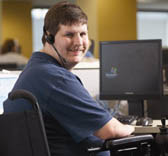 Our goal is to make our websites accessible and usable for our clients. For example, we use high-contrast colours — one way of making our pages easier to read for people with vision problems.
RBC Online Banking:
Here are some of the ways you can have a better experience doing your banking online with RBC:
Alternative text for images (particularly important if you use screen-reading software such as JAWS)
Clear column headers making related information easy to find
No need to repeat steps. Use a link to skip to your desired destination
Pop up instructions on buttons and links to open a new window
Headings to show the relative importance of information on a page
Flexibility not to use a mouse — interactive functions are available using your keyboard
Alternative ways of communicating information other than through colour for people who cannot distinguish easily between colours
Ongoing Improvements
Our guidelines are based on the World Wide Web Consortium (W3C) Web Content Accessibility Guidelines. We continue to review all of our websites for ease and accessibility.
Did You Know?
About 4.4 million Canadians (14.3%) have reported having a disability. The percentage of Canadians with disabilities increases with age, ranging from 3.7% for children 14 years and under to 56.3% for those 75 years and over.
Source: Statistics Canada. Participation and Activity Limitation Survey 2006