Skip Breadcrumb Links
Accessibility at RBC > Telephone Services

Telephone Services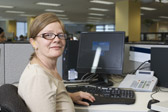 We're committed to providing convenient telephone access to our services.
A Leader in Telephone Banking Since 1994
Contact centres at RBC were first established in the fall of 1994. They offered clients the ability to review their account balances, make bill payments and transfer funds from one RBC account to another.
Today, our telephone representatives can discuss a variety of financial solutions available to you, including loans, mortgages, Visa cards and investments. You can do almost all your banking with us from the comfort of your home or office.
Virtual Assistant
Our Virtual Assistant enables clients to do banking using voice commands. This can be helpful for people who have vision loss. For privacy reasons, clients have the option to enter their client card number using the telephone keypad.
People who have speech disabilities and who prefer to use their telephone keypad to receive their account balances and transaction history, pay bills and transfer funds, can do their banking by calling 1-800-769-2544.
Teletypewriter (TTY) Services
Clients who are deaf or hard of hearing can take advantage of our Teletypewriter (TTY) services, which use teletype devices with written text. Our TTY lines are available in English and French, and are as responsive as our regular phone lines. Just call us at 1-800-661-1275 — we'll be glad to help you.
Relay Services can also be used to talk to a representative about banking needs, particularly for more complex requirements.
A Convenient Point of Contact
With an average of 95,000 client conversations each day, our contact centres offer a convenient, accessible point of contact for a broad range of personal and business solutions.