Skip Breadcrumb Links
Accessibility at RBC > Print Materials

Printed materials in alternative formats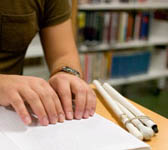 We're here to meet your needs
At Royal Bank, meeting the diverse needs of our clients is a top priority. To accommodate everyone, we offer a wide range of accessible banking services.
You can receive RBC materials in a number of formats, including large type, audio cassettes, CDs, Braille and e-text.
Personal Deposit Accounts - Braille Statements
Our Personal Deposit Accounts – Braille Statements are based on community feedback and today's industry standards. We use Grade 1 Braille, a format known for its universality. Some high level features of the Personal Deposit Account – Braille Statements include:
A "Contact us" section, which provides both a phone number and website information.
Transaction descriptions that clearly identify the type of transaction performed. For example:

"INTERAC purchase"
"Royal Foreign Exchange withdrawal"
"Wireless Banking funds transfer"

A summary section with the account's opening and closing balances, total deposits and withdrawals for the reporting period.
The inclusion of all statement messages on the Braille statement.
The use of both sides of the paper to print the statement.
Personal Deposit Cheques
Our personal deposit cheques feature large print and black linework on a white background for maximum contrast. They also include perforated lines, which provide tactile guidance and assist with writing.
Audio
For audio accessibility, we have information in CD or cassette format that's read by a professional narrator.
e-Text
Our e-texts come in CD format and can be used in various software applications to magnify the onscreen text.