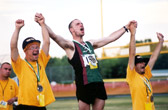 We believe it's in the best interests of our communities that everyone takes part in community life. We support programs that remove barriers to education and help people with disabilities find jobs. In 2010, we donated over $897,000 to organizations supporting people with disabilities.
Over the years, we've supported a variety of programs for individuals with disabilities. For example:
RBC donations to the Canadian Centre for Diversity will help develop practical tools and strategies and business practices in diversity training for small and medium sized businesses.
RBC supported the Bloorview Kids Foundation with a $125,000 donation to its Positive Parenting Program, which aims to prevent severe behavioural, emotional and developmental programs in children by enhancing the knowledge, skills and confidence of parents.
In 2010, we pledged $30,000 to the Rehabilitation Centre for Children to help children with special needs in Manitoba and surrounding areas reach their goals and participate in their communities.
RBC provides support to the Richmond Committee on Disability's Independent Living Skills Development Project. The project provides skills training and peer support to people with disabilities.
Since 2001, we've committed $1.2 million to Ryerson University's School of Disability Studies. This school is designed to give educators and practitioners the opportunity to teach and research in response to community needs. The Institute also creates research and work opportunities for students at the undergraduate and graduate level.
We've also supported the Canadian Association of Independent Living Centres and their network of 28 independent Living Resource Centres that promote saving for post-secondary education among parents with disabilities and parents of children with disabilities.
RBC has been a sponsor of the Canadian Paralympic Committee since 2006 and has invested over $1.5 million through donations and sponsorships of the Canadian Paralympic Team.
RBC and the Special Olympics have a long-standing relationship going back to 1968, when we became one of the Special Olympics' founding partners. Since that time, we've provided over $4 million in funding through both donations and sponsorship of national, regional and local games.