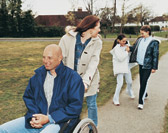 Ensuring equal access to both our spaces and our services is a priority for RBC. As we make ongoing accessibility improvements, we involve our employees, clients, industry specialists and other stakeholders in the process.
Our Commitment to Barrier-Free Spaces
To better accommodate clients and staff with disabilities, we're committed to providing barrier-free accessibility where we operate. This is reflected in the design of all our new branches, and, where possible, in our renovations. For example, we provide:
Automated/accessible doors and vestibules
Barrier-free ramps to vaults and service areas
ATMs built to be barrier-free including lowered mounting heights; some are also equipped with Braille
Learn more about our Audio ATMs
Barrier-free washrooms in every new branch
Barrier-free safety deposit box booths in new branches
Where available, at least one parking space reserved for customers with disabilities
Lifts or elevators in new multi-level branches
We're also working with our landlords to reduce barriers to accessibility in the buildings we lease.
Office Space Design
We've put accessible furniture in office spaces where our representatives meet with clients. For example, some of our tables have tops that can be easily raised, lowered or tilted to adjust to the needs of people in wheelchairs.
Improving Accessibility
RBC strives for improved accessibility across its branch network and recognizes that further steps can and will be taken to help RBC become barrier free by, for example, engaging in initiatives to identify and eliminate physical barriers including annual proactive branch renovations as needed.