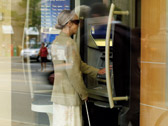 Our network of over 4200 banking machines is the largest in Canada — and we're continuing to expand. We continue to add new banking machines to be able to provide our clients with convenient access to their money and RBC offered services.
Setting ATM Standards
We worked with the Canadian Standards Association (CSA) to shape the industry standard for barrier-free ATMs. We were the first bank worldwide to provide voice guidance enabled or "talking" ATMs — and our prototype was adopted as the de facto standard by both the CSA and other standards organizations around the world.
ATM Availability
As of December 2010, all RBC branch banking machines are voice guidance enabled and in each branch location we have at least one dedicated wheelchair accessible ATM that meets and exceeds the CSA standards.